What will homes of the future be like?
There have been a number of high profile issues in the press recently such as fuel poverty, fitness for habitation, an ageing population and rising housing costs. 
On 19 October 2016 an all-party parliamentary group (APPG) debated the political, economic and business case for healthy homes of the future.
The group looked at what qualities future homes will need to improve physical and mental health together with social wellbeing, both within the home and neighbourhood.
Driving the debate are two documents; 'Good Housing – Better Health' by the Academic-Practitioner Partnership and 'Health and Wellbeing in Homes' by the UK Green Building Council.
Areas that the APPG considered are shown in this pictogram (from 'Health and Wellbeing in Homes):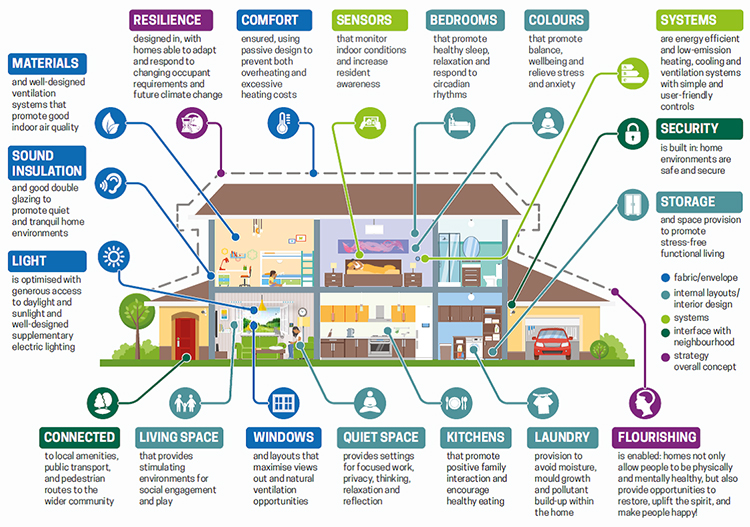 Some recommendations that may appear in future revisions of the building regulations include: security, poor air quality, heating and mechanical ventilation systems (particularly controlling overheating) and greater consideration given to warmer and wetter climates.
What are homeowners' priorities for their future homes?
Saint-Gobain surveyed 3,000 UK homeowners and renters, and the results feature in the 'Health and Wellbeing in Homes' report. They offer an insight into homeowners' ideal future homes, listing "safety and security" as their top priority, followed by "running and maintenance costs" to ensure a home environment free from condensation, dampness or mould. 
"An improvement in house value and desirability when sold" featured in 17th position in the survey, lower than "views of nature", "natural light" and "lack of noise".
LABC will keep you up to date on any further developments in building regulations following this debate.
Comments
(No subject)
Submitted 2 years 10 months ago
I work in the domestic market mainly so any new information will be helpful on new projects.

Webmaster note
Submitted 2 years 10 months ago
All comments posted at an earlier date to this one have been transferred from our old website.

Add new comment
Sign up to the building bulletin newsletter
Over 48,000 construction professionals have already signed up for the LABC Building Bulletin.
Join them and receive useful tips, practical technical information and industry news by email once every 6 weeks.