What's the difference between fire proof and fire resistant?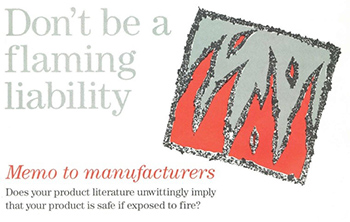 Many years ago the British Standards Institute (BSI) published a leaflet titled 'Don't be a flaming liability'. It was aimed at encouraging manufacturers to use correct terminology when describing their products to avoid misleading prospective purchasers.
Terminology plays an important role in our industry; however, the misuse of common phrases can lead to a complete misunderstanding regarding the suitability of products for a particular application and could result in fatal consequences.
Building Regulation guidance in Approved Document B, communicates standards by referring to defined terms linked to relevant tests. The term 'fire resisting' for example is defined as 'the ability of a component or construction of a building to satisfy for a stated period of time, some or all of the appropriate criteria specified in the relevant standard test'.
The misuse of terminology can be split into two categories:
1. Using terms that have no real meaning.
2. Using the correct terminology in the wrong context.
In the first case, there are terms commonly used which have no defined performance based upon tests, for example, Fire retardant, fire proof, FR.
In the second case, a product may have a genuine fire related test result but the context in which it is applied isn't right.
Occasionally the tests relating to 'fire resistance' and those relating to 'surface spread of flame' are confused but they relate to different properties and aren't interchangeable.
Fire proof
This does sounds very promising, but as there are no tests to determine what 'fire proof' means, you could say that a common piece of polystyrene is 'fire proof'. The use of this term is misleading because it implies that the product has an inherent degree of safety.
Fire retardant
This term has not been used in building regulations since the 1979 Building constructional by-laws (a set of standards used in inner London only). It used to be defined as a 30 minute standard of fire resistance when tested to BS 476 Part 8 (an older fire resistance test). The term is now no longer used, therefore claims that a product is 'fire retardant' are meaningless.
Occasionally the term 'fire retardant treated' is used in the industry to refer to a product which has been impregnated with a substance to improve its performance. However, any such claims need to be supported by reference to the actual test performance, as 'fire retardant' has no tested performance.
FR
This is sometimes used particularly by architects and building control surveyors as shorthand to mean 'fire resisting'. This is acceptable, provided all parties understand that 'FR' means 'fire resisting' to BS 476 Part 22 or European (BS EN) standards. 
Although the manufacturer, specifier and installer each have a responsibility to ensure the correct product is used for the correct application, it commonly falls to the building control surveyor to spot that the wrong product is being used for the wrong application.
Having said this, it must also be recognised that there are many manufacturers who are responsible and do provide valuable knowledge to the industry. The key to considering any claim of product performance is to match the stated claim with the test standard quoted. If the test standard is for something different to that claimed, then the product is not suitable for the intended application.
If a term is used such as FR, fire retardant or fire proof that are not defined by a test, be very suspicious.
So almost 30 years on, the sentiment of the BSI leaflet remains just as relevant; 'Don't be a flaming liability'. It frequently falls to the last link in the chain - the building control surveyor - to spot the problem; however, this just confirms the valuable contribution that a diligent surveyor can bring to the design and construction team.
Further information
Also read Can you identify fire resistant glass? and How to comply with Building Regulations and avoid fire in masonry buildings.
Please Note: Every care was taken to ensure the information was correct at the time of publication. Any written guidance provided does not replace the user's professional judgement. It is the responsibility of the dutyholder or person carrying out the work to ensure compliance with relevant building regulations or applicable technical standards.
Comments
(No subject)
Submitted 3 years 9 months ago
Thank you for a very good article, as a fire safety professional this is something that we see on a regular bases.

At times we also have difficulty in explaining to the industry the importance of obtaining appropriate test certification from manufacturers for products and that this is something that should be produced as a matter of course as this is something that the Building Control approving office will be requesting.

Kindest Regards
Webmaster note
Submitted 3 years 9 months ago
All comments posted at an earlier date to this one have been transferred from our old website.

Add new comment
Sign up to the building bulletin newsletter
Over 48,000 construction professionals have already signed up for the LABC Building Bulletin.
Join them and receive useful tips, practical technical information and industry news by email once every 6 weeks.