My story: Sarah Evans - Trainee of the Year 2010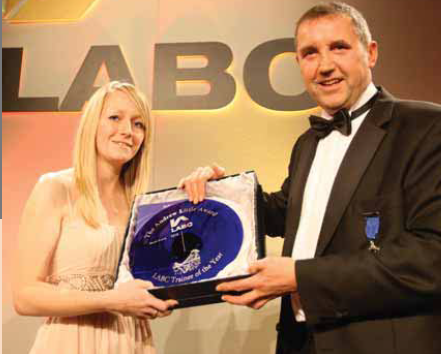 "When I finished university in 2007 I wasn't sure what career path I wanted to follow. I saw an advert in my local newspaper for a Trainee Building Control Surveyor and after reading the job description, which I thought sounded interesting, I  decided to apply. I was thrilled when I was offered the job and by the end of October that year I began my career as a Trainee Building Control Surveyor.
"I spent the next few years completing an introduction to building college course and shadowing the qualified building surveyors in my team. This hands-on experience proved invaluable when I moved to Sheffield Hallam University to study an RICS accredited degree in Building Surveying.
"I had gained practical experience and could actually apply what I was learning to my everyday work and vice versa. By 2010 I was covering my own area while simultaneously finishing the final year of my degree. It was in this year that my manager nominated me for the first ever LABC Trainee of the Year – Andrew Little Award. Being nominated really boosted my confidence. It was great knowing that the people I worked with had the belief in me to put me forward for a nationally recognised award.
"I remember receiving the news that I had won and I couldn't believe it at first. I hadn't expected to be a real contender never mind win!
"I was presented with my award at a prestigious LABC National Building Excellence awards ceremony in London. It was here that I was lucky enough to meet some of Andrew Little's family.
"Andrew's family told me how passionate he was about encouraging trainees and apprentices into Building Control as a profession, this made the award an even greater privilege for me.
"Having them there and being the first recipient made it a very special honour. Following winning the award, I continued covering my area working as a Building Control Surveyor and completed my degree at Sheffield Hallam in 2011. Receiving the award and knowing my colleagues have faith in my abilities as a Building Control Surveyor has given me the confidence to continue my studies and work towards becoming fully chartered."