Housing developers and builders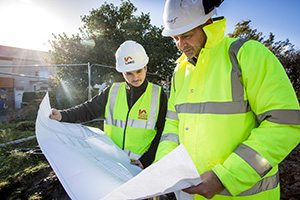 For small, medium or large projects, LABC is your nationwide expert building solution service. From design and pre-application right through to completion, our specialist technical advice and cost saving solutions minimise risks and deliver completed projects of the highest quality.
We are confident that no other organisation can offer you such in-depth well rounded technical expertise and advice covering means of escape, access and acoustics right through to energy efficiency and sustainability.
Using a local authority building control surveyor ensures your project is in safe hands by providing:
Pre-applicaton advice
A single point of contact
An unparalleled source of expert technical advice
Unique local knowledge and access to records of existing ground conditions and drainage
Established relationships with planning, the fire service, highways & environmental health
A speedy resolution of queries
Consistency of interpretation
Value – as a not-for-profit operation services are always charged at cost.
Our local authority building control teams deliver cost effective solutions across all types of projects in various fields including: