How are LABC helping house builders?
Local authority building control is by far the largest provider of building control services to the construction industry
With the expert knowledge to deal with any building regulations issue, no other organisation has the same breadth or depth of technical expertise or experience to help house builders.
How are we helping house builders?
Nationally resourced organisation with a locally delivered service meaning...

Local site knowledge and engagement
Local employment, often with a same day inspection service
Sustainable method of delivery – by using our local surveyors we minimise travel, spend more time working on your project and help reduce your carbon footprint
 

Reduced cost thanks to...

Services charged at cost - no profit margin or shareholders
The provision of a commercially aware, proactive service
Speedy resolution of queries
A pragmatic and innovative approach
 

Reduced risk because of...

Unparalleled resource of experienced surveyors, providing expert technical advice
Established relationships with local fire services, highways etc
Consistency of interpretation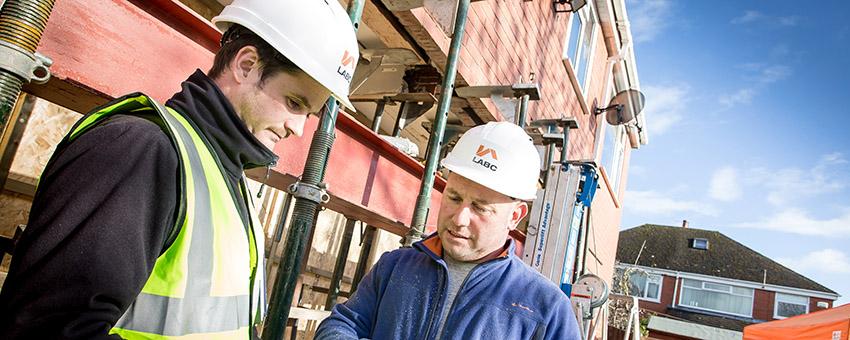 Help for house builders
We have a number of schemes and propositions which are aimed at helping you:
LABC Acoustics – Offering a UKAS Accredited Sound Insulation Testing service as required by Approved Document E (2003).
Air Pressure Testing - Air pressure testing is a method of measuring how much air is leaking into and out of a building.
Energy and Sustainability - Our specialist trained surveyors provide the widest range of energy and sustainability advice, testing and calculations.
LABC Warranty – Whether you are building or converting homes to rent or sell, we are confident we can provide you with the protection your projects deserve.
Partner Authority Scheme - Regardless of a project's geographical location, LABC's Partner Authority Scheme means you can choose to work with any local authority building control surveyor to undertake all pre-application and design work.
LABC Assured - A one-off certification process assessing compliance with building regulations and standards for England, Wales and Scotland.
House Type Approval - As a housebuilder or housing association you can arrange to have your standard designs/details examined for compliance with the Building Regulations just once and under the provisions of the Local Authority National Type Approval Confederation (LANTAC) they will be accepted by all local authorities across England and Wales without any further checking (other than local site related issues). Email Martin Taylor for further details.
Registered Construction Details - A set of thermal details designed to minimise heat loss through weak points in the building envelope, vital to the performance of the building.
LABC Building Excellence Awards - Celebrating your achievements in the construction industry, rewarding excellent buildings, outstanding companies and individuals that go the extra mile. We have categories specific for house builders of all sizes, from Best Local Builder to Best New Housing Development.
Find your local authority building control team using our postcode finder.
LABC also offer other services which you may need to complete your development including:

* Planning & building consent
* Structural warranties
* Acoustics and air pressure tests