LABC Inspection Request app
You've asked for it, and here it is!
We've developed a free of charge site inspection request app that can offer your customers the option to contact you via their smart phone or tablet at a time convenient to them.
It's just one more way that we're making it easier for your customers to reach you as more and more of them move to working on mobile devices while out on site.
And it's not only a great tool for your clients - it's a handy way to raise the profile of your service and save your team time and money with regard to the administration of the inspection requests.
Click the links below to download the app:
How to get your authority listed on the LABC Inspection Request app?
All you need to do is email LABC and we'll set up your authority and send you a login to administer your app. Once you get your login for your dashboard you can then: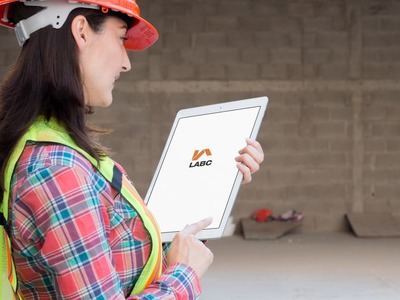 Add your logo to the app
Update your login details
Create a message that your customers will see on the app that describes your local authority or partnership
Add your website link
Add your building control department's phone number
Add a thank you message that customers will see once they submit an inspection request
Download a report whenever you like to see what inspections you have had through the app
​APPetite for construction
By using GPS or the construction site's postcode, your app will pinpoint your authority to the client (or they can simply select your authority from a dropdown list). The app then sends the user's inspection request straight to you by email 24/7. It will also send an email to your customer letting them know that you'll be in touch shortly.
As well as being free for you and your customers to use, it's easy to set up and a breeze to administer. Inspection requests get sent automatically to a generic admin email address at your authority that you specify.
If you don't want to receive inspection requests from the app you can still use it to list your authority within the app, but the app will then simply direct them to phone you instead.
To set up your authority, contact LABC's Website Development Consultant Julie McNamee by emailing julie.mcnamee@labc.co.uk.