Anthony Oloyede takes over as LABC President at 2019 AGM
Congratulations to Anthony Oloyede who succeeded Dave Sharp as President of LABC for 2019-2020 at this year's AGM in Birmingham.
Anthony's focus for his presidential year will be on helping to ensure that all members throughout England and Wales are fully aware of the many consultations and initiatives that LABC are involved in, for example in fire safety, quality management and competency. 
     
Referring to these he said "...it's vitally important that this work continues, working with the GLA, MHCLG, the Welsh Government, BRAC and other construction industry bodies and Parliamentarians to ensure the country continues to deliver buildings that are safer, more accessible and even more sustainable as regulations change and technology continues to improve."
He also looked to the very near future and forecast an inevitable shift in focus to energy efficiency as part of the global effort to limit the effects of climate change.
Anthony said "Public service is at a crossroads. The next five years will see huge changes and the LABC Board's strategy is designed to keep us ahead of the changes and in a position to convince policy makers that we can deliver."
Anthony's chosen charity is the Construction Youth Trust who help improve social mobility in the construction and built environment sector by working with young people to overcome barriers and access employment opportunities.
Honorary members
Chris Griffith-Jones and Wayne Timperley were presented with Honorary Member awards at the meeting by LABC Chief Executive Paul Everall.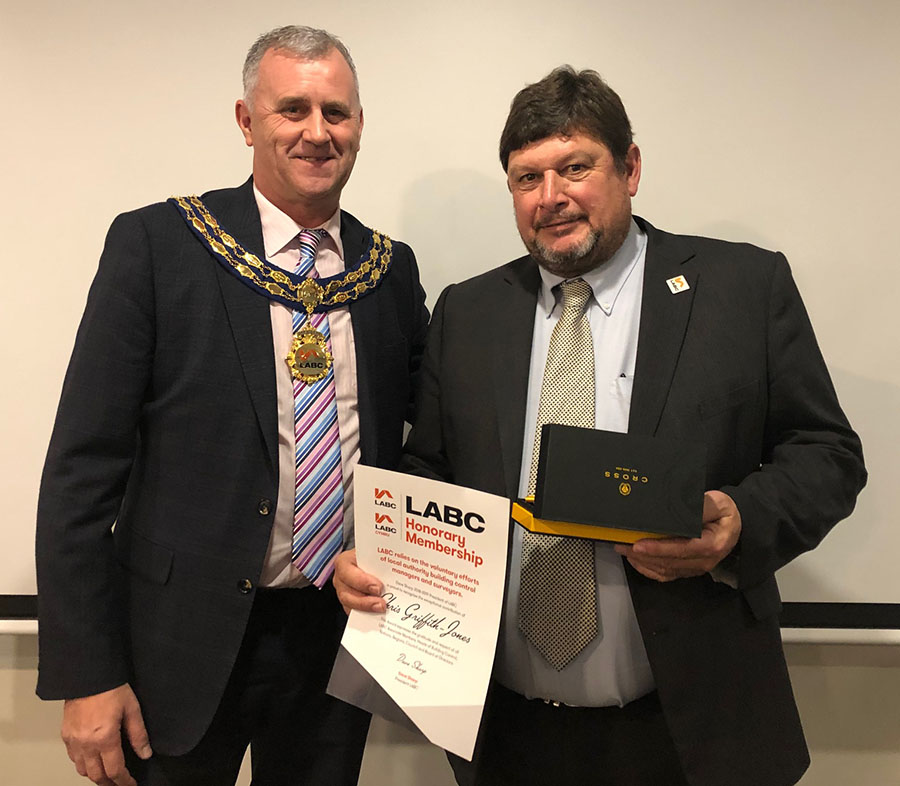 Chris (pictured above right with outgoing President Dave Sharp) a former LABC President and Board Director, and a building control professional for many years, was congratulated for having shown outstanding leadership and devoting a considerable amount of his time to furthering the interests of LABC. Paul wished him well in his retirement from Winchester City Council.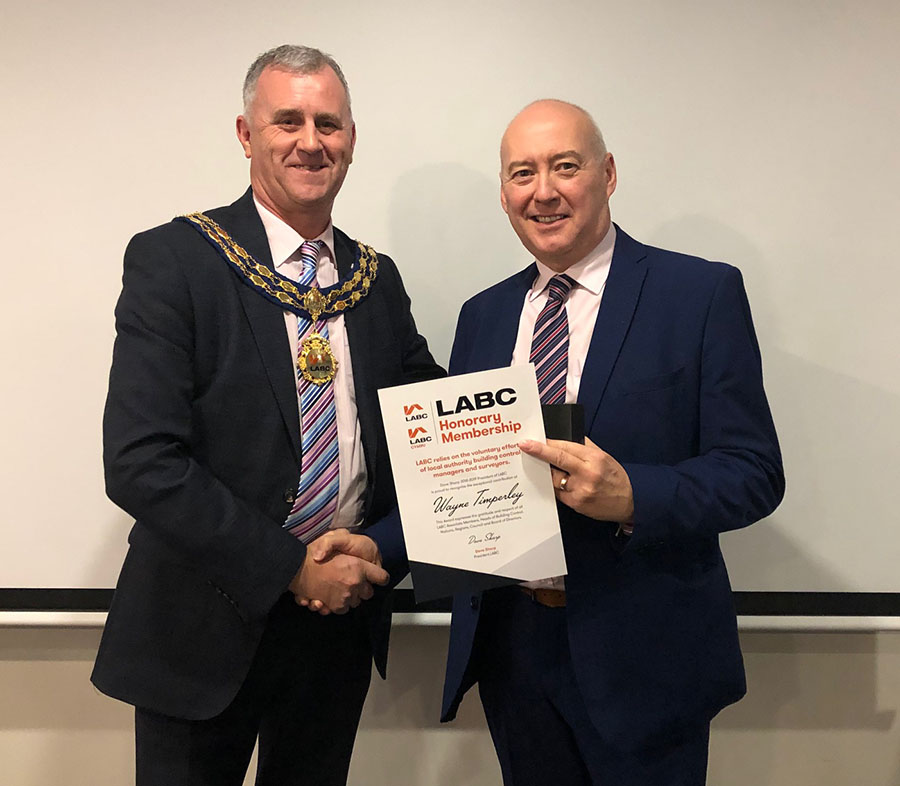 Wayne (pictured above right with Dave Sharp again), Business Manager at Manchester City Council was praised for managing to find time to make major contributions to LABC at regional and national level. At a local level, he has also set up the Greater Manchester Building Control Academy which aims to encourage better training and networking, providing much of the training himself.
Sign up to the building bulletin newsletter
Over 48,000 construction professionals have already signed up for the LABC Building Bulletin.
Join them and receive useful tips, practical technical information and industry news by email once every 6 weeks.