Can an internal non-loadbearing wall in a flat be removed?
Sometimes non-loadbearing walls in flats are constructed to provide a safe route to evacuate from inside in the event of a fire. Generally, there is little opportunity for rescue from flats via upper floor windows in the same way for occupants of a typical house. Evacuation from bedrooms where people are asleep are of particular concern. 
A fire in the living space of a flat could trap someone sleeping in a bedroom with no possibility of escape if the evacuation route from the bedroom must pass through the living space. Many flats have an entrance hall which allows the escape route from the bedroom to be separated from the living space. 
This protected entrance hall has fire resistant walls and doors to allows sufficient time to evacuate. The fire doors are not usually self-closing, as is found in non-domestic buildings, and the integrity of the enclosure relies upon the occupant to shut the doors before they go to sleep.
Instead, smoke should leak past the door edges and set off the smoke detector in the entrance hall to alert the occupants and allow them to escape.
There are solutions available to allow the bedroom to open directly into the living space, but this typically involves the installation of an active fire suppression system such as sprinklers. Also, where the bedroom is part of the living space in a small flat there may not need to be any internal walls other than those enclosing the bathroom.
Any proposal to remove a fire-resistant wall from the inside of a flat will require a building regulations application irrespective of whether it is a loadbearing wall or not. 
There are usually non-loadbearing walls in a flat that do not need to be fire resistant and can be removed without notifying the local authority building control department, but it is recommended that you check with a suitably competent professional, such as an architect, to identify the performance of the wall before determining whether it can be removed or requires approval.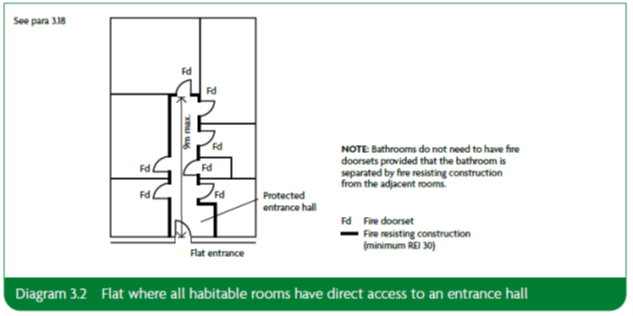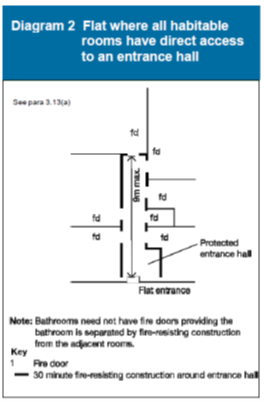 This is particularly important where the presence of a fire-resistant wall may not be immediately apparent. In some circumstances kitchens are enclosed in fire resistant walls and fire doors.
Identifying a wall used to separate alternative escape routes (as shown in the example below) can take significant investigation to determine its location.
 
It is important that all fire-resistant walls in flats are not breached by cutting holes in them or by the provision of sockets or switches, for example, without suitable fire protection being applied. Recessing equipment, such as television screens into plasterboard fire resistant walls can affect both the fire performance and if a separating wall between different flats, the acoustic performance of the wall, detrimentally. 
Sign up to the building bulletin newsletter
Over 48,000 construction professionals have already signed up for the LABC Building Bulletin.
Join them and receive useful tips, practical technical information and industry news by email once every 6 weeks.