Chimneys and flues: Don't forget the neighbours!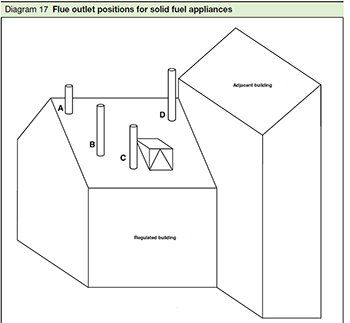 Approved Document J outlines the precautions needed to ensure that smoke and gases from appliances can be safely discharged. Diagrams 17 and 18 highlight the outlet heights needed in relation to traditional roofs and easily ignited coverings such as thatch and shingles.
In general, outlets need to be at least 600mm above the ridge where they are on or within 600mm of the ridge itself (A). If the flue or chimney is elsewhere its height needs to be lifted until the termination point is 2300mm from the roof covering when measured horizontally and at least 1000mm high or at least as high as the ridge (B).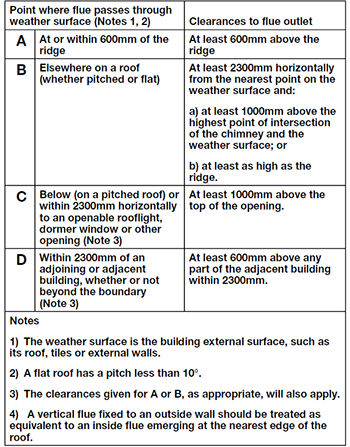 What have the neighbours to do with it..?
There are also requirements if there are other buildings within 2300mm of the 'regulated building'.
So adjoining buildings less than a drive width away from the chimney also impose a requirement to raise the outlet at least 600mm above any part of the adjoining building (D).
This could cause problems on sloping sites or on infill developments with the chimney or flue needing to be higher than normal. Don't forget that Approved Document A also places a structural requirement for chimney height to be no more than 4.5 times its width (2D1 and Diagram 20).
So the higher a chimney, the larger it needs to be. There is also a requirement (AD J 2.8) for flues to be at least 4.5m measured from the highest point of air entry – which could be the top of a fireplace opening. For bungalows this means that termination may be significantly higher than 600mm above the ridge. 
Further information
Building Regulations Part J (Wales)
Guide to installing solid fuel stoves
Please Note: Every care was taken to ensure the information was correct at the time of publication. Any written guidance provided does not replace the user's professional judgement. It is the responsibility of the dutyholder or person carrying out the work to ensure compliance with relevant building regulations or applicable technical standards.
Sign up to the building bulletin newsletter
Over 48,000 construction professionals have already signed up for the LABC Building Bulletin.
Join them and receive useful tips, practical technical information and industry news by email once every 6 weeks.