How to get it right: Roof insulation
A quarter of heat in an uninsulated home is lost through the roof. Utilising roof insulation in a loft, attic or flat roof is a simple and effective way for your customers to reduce heat loss and cut their heating bills - but only if the work's done properly. The level of insulation needed will differ according to what's there already, but when finished should be at least 300mm deep.
If you're re-roofing, a building regulations application will be required - and as part of this work, roof insulation will be necessary. Think about how the roof will be ventilated - breathable felts only work in a well-sealed roof space (not above lath and plaster).
If you're just insulating an existing roof, no building regulations application is needed - but there's still a risk of condensation by providing insulation, so ensure there is good airflow through eaves ventilators.
The problem with this roof insulation
Incorrectly laid insulation, leading to heat loss through the roof.

How to install the roof insulation correctly
​Install the roof membrane in line with the design or manufacturers' details, that is - breathable or standard with ventilators.
Install continuous insulation across the roof and into the eaves - gaps will lead to condensation and mould.
Ensure insulation continues uninterrupted between the loft and external wall.
Insulate eaves before the roof is closed up, but keep any eaves ventilators free by using a baffle.
Use an insulation support box above down-lighters to maintain insulation thickness and prevent overheating of the fittings.
Install a loft hatch with appropriate insulation thickness - ideally it should be draught-stripped.
How the roof should look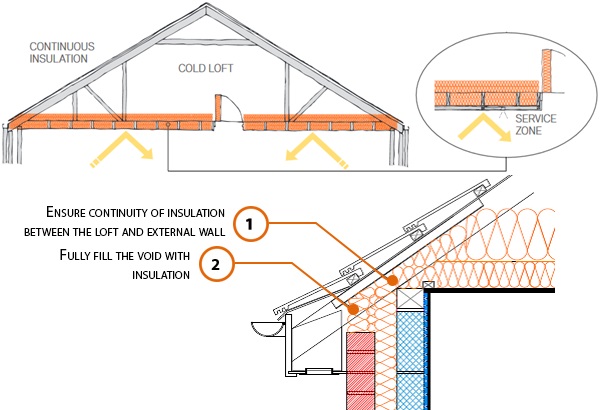 Find more tips by downloading Zero Carbon Hub's Builder's Book, which promotes good workmanship by helping you identify and correct the most common energy efficiency-related problems in construction.
For homeowners – read about other ways you can make your home energy efficient and save money in the long run (link added in April 2019).
Please Note: Every care was taken to ensure the information was correct at the time of publication. Any written guidance provided does not replace the user's professional judgement. It is the responsibility of the dutyholder or person carrying out the work to ensure compliance with relevant building regulations or applicable technical standards.
Sign up to the building bulletin newsletter
Over 48,000 construction professionals have already signed up for the LABC Building Bulletin.
Join them and receive useful tips, practical technical information and industry news by email once every 6 weeks.