How to get it right: Childproofing windows
One of our officers was surprised to be greeted with this novel approach to childproofing windows at a recent completion inspection - a child safety gate.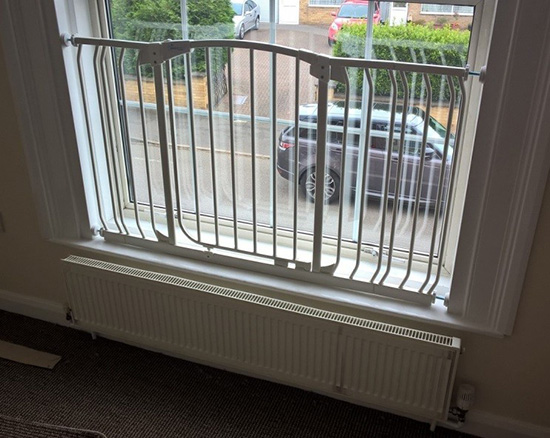 An earlier inspection had highlighted the need to provide some form of guarding to the window because it was within 800mm of the floor. The requirement contained in Part K of the Building Regulations is to prevent people, particularly children, from falling out of the window.
This window is top hung so opens from the bottom and is particularly dangerous. It's also possible to use the radiator or the window sill as a step, so the guarding needs to extend 800mm above this and not be climbable itself, with no gaps greater than 100mm to prevent children from being held fast.
Safety glazing is also needed in Part K (Part N in Wales) for any glazing within 800mm of the floor unless it is 'permanently protected'. Again this is to prevent serious cuts or piercings from impact with the glass.
This permanent protection is slightly more onerous than a window guarding as it requires a maximum 75mm gap to prevent glass breakage.
So does a baby gate satisfy the requirements in this instance? Well 'it provides a barrier 800mm high, it's not climbable (unless you have a child like this... ...) 'and has no gaps greater than 75mm' said the house owner.
BUT, it's not a permanent childproofing solution and would probably have been removed the moment a Completion Certificate had been issued.
The householder did confess that 'it was worth a try' but was it really worth the risk?! They installed a permanent guarding shortly afterwards and were granted their Completion Certificate.
Further information
Approved Document K (England), Approved Document K (Wales), Approved Document N (Wales) 
Browse our 'How to get it right' articles
Please Note: Every care was taken to ensure the information was correct at the time of publication. Any written guidance provided does not replace the user's professional judgement. It is the responsibility of the dutyholder or person carrying out the work to ensure compliance with relevant building regulations or applicable technical standards.
Sign up to the building bulletin newsletter
Over 48,000 construction professionals have already signed up for the LABC Building Bulletin.
Join them and receive useful tips, practical technical information and industry news by email once every 6 weeks.