LABC & University of Wolverhampton launch UK's first building control qualifications pathway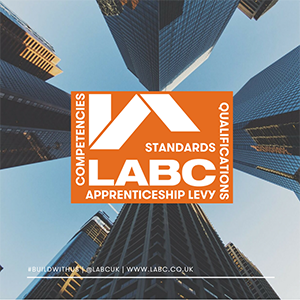 Local Authority Building Control (LABC) is launching the UK's first trailblazer building control surveyor qualifications pathway, created in partnership with the University of Wolverhampton and the Chartered Institute of Building (CIOB).
Four pioneering building control qualifications have been developed as a result of LABC's commitment to demonstrating competencies, raising building control standards, ensuring public protection and addressing the growing skills shortages faced by the construction industry and in particular the Building Control specialism.
Through this series of qualifications, surveyors will learn about building pathology, the statutory framework, building regulations, building design and plan evaluation, construction products and technology, project management, the commercial environment, health and safety and sustainable construction.
Lorna Stimpson, LABC's Deputy Managing Director commented. "Our commitment goes further than their design, content development and accessible delivery methods.
"We've also been working hard to ensure these critical qualifications are affordable.
"We're thrilled that our application for this qualification pathway is to be included as an Apprenticeship Standard and has been approved by the Institute for Apprenticeships.
"This means that our Local Authority members will be able to draw down on apprenticeship levy funding to pay for their employees' formal education, from the level four and five diplomas all the way up to the BSc Hons degree in Building Control Surveying".
These qualifications not only offer employers peace of mind that their staff are fully competent, they also offer learners a structured, accredited and recognised learning pathway that builds confidence, skills, knowledge and improved job prospects and security at each qualification level.
Further information
The qualifications will launch in September 2018 with enrolments opening soon. Visit our Qualifications page to sign up for further information, or contact us at learning@labc.co.uk or 020 8616 8120 for further information.
(Representatives from LABC, CIOB and the University of Wolverhampton pictured above.)
Sign up to the building bulletin newsletter
Over 48,000 construction professionals have already signed up for the LABC Building Bulletin.
Join them and receive useful tips, practical technical information and industry news by email once every 6 weeks.