Laying the foundations for Modern Methods of Construction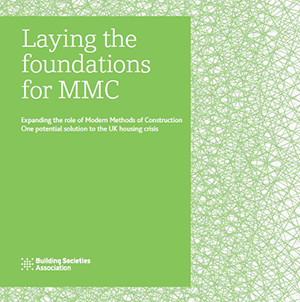 In November 2016 the Building Societies Association (BSA) launched its housing report: 'Laying the Foundations for Modern Methods of Construction (MMC),' encouraging the industry to look into off-site house-building as a method of tackling the housing crisis in the UK.
"Buyer demand is already growing for these types of houses and will grow further, as MMC becomes a conventional choice to tackle the housing crisis," said Richard Bacon, MP for South Norfolk and member of the All-Party Parliamentary Group on self-build, custom and community housebuilding.
Elsewhere in the report, it calls for the government to nurture growth of the industry and lead by example with its own developments. It also sees the government as the catalyst to bringing the housing industry together.
BSA chairman, Dick Jenkins, said alternative building technology needs to become as conventional and mainstream as brick and block has been in the past, and if that was achieved it would be a "game-changer" for the industry.
However, before MMC can become a conventional choice, more work is needed to ensure that a New Homes Warranty can be issued against the construction type.
Warranty companies like LABC Warranty are justifiably concerned at the level of risk associated with MMC - many of which have no proven record of long term durability simply because they are new concepts.
Building control teams must also be sure that the construction meets the requirements of Regulation 7 in that;
Building work should be carried out:
(a) With adequate and proper materials which…
    (i) are appropriate for the circumstances in which they are used
    (ii) are adequately mixed or prepared
    (iii) are applied, used or fixed so as adequately to perform the functions for which they are designed.
(b) In a workmanlike manner.
At LABC we are seeing more proposals defined as MMC and are working hard to ensure that they can achieve building regulation compliance through third party accreditation, quality control and relevant testing of the combination of materials used to create the structure.
Sign up to the building bulletin newsletter
Over 48,000 construction professionals have already signed up for the LABC Building Bulletin.
Join them and receive useful tips, practical technical information and industry news by email once every 6 weeks.