New roofing guide to boost housebuilders' use of offsite components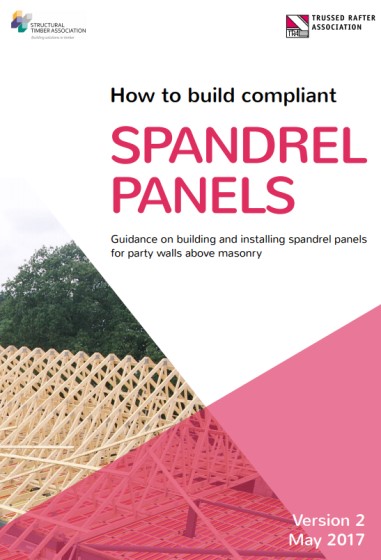 Today many builders are exploring the efficiencies and quality benefits of pre-manufacturing and offsite construction.
As part of this drive, builders increasingly use timber spandrel panels in low-rise housing and apartments. Traditional brick and block gable ends and party walls are open to the elements during construction/curing and can't be erected during certain weather conditions; particularly frost and wind.
There's also the danger that they'll be insufficiently cured before construction is continued which can be a major health & safety risk causing site accidents.
The new roofing guide for masonry-built homes provides evidence-based technical best practice on the design, structural requirements, fire and acoustic performance, weather protection and the safe installation of spandrel panels.
The advantages of using spandrel panels are numerous, but six key benefits stand out:
The panels can be manufactured off-site
They help to improve on-site safety, as there's less time working at height
They can be installed quickly
Faster installation times mean lower costs
They leave little or no site waste
Using spandrel panels can help to address the shortage of skills on-site
To ensure safe and effective working practices, this document sets out some essential guidance on various aspects of spandrel panel design, construction and installation.
In particular, the guide aims to provide evidence based consistent information on best practice for spandrel panel usage in party walls above masonry.
The guidance has been prepared collaboratively by the Trussed Rafter Association and the Structural Timber Association.
The TRA represents over 65% of the trussed rafter and metal web joist industry in the UK and Ireland. Members include the principal manufacturers of trussed rafters, metal web joists, suppliers and professionals involved in roof and floor design and construction.
Further information
Find out more about the roofing guide and download from the TRA website.
Please Note: Every care was taken to ensure the information was correct at the time of publication. Any written guidance provided does not replace the user's professional judgement. It is the responsibility of the dutyholder or person carrying out the work to ensure compliance with relevant building regulations or applicable technical standards.
Sign up to the building bulletin newsletter
Over 48,000 construction professionals have already signed up for the LABC Building Bulletin.
Join them and receive useful tips, practical technical information and industry news by email once every 6 weeks.