West Lindsey Building Control team helping to inspire future construction professionals
Schoolchildren from across Lincolnshire have been inspired to become architects, builders and quantity surveyors as part of Construction Week 2018.
Pupils from across the county attended the Lincolnshire Showground in West Lindsey, to get an insight into the construction industry from the best in the business. West Lindsey District Council's Building Control and other council officers, attended the event, along with representatives from The Army, Balfour Beatty and Gelder Group.
The purpose of the event was to raise awareness and interest in the diversity of careers available within the Construction Industry, and the West Lindsey Building Control team were thrilled to be attending this year!
A number of workshops with 'hands-on' and fun activities, were available for students to get a good idea of what a career in construction entails.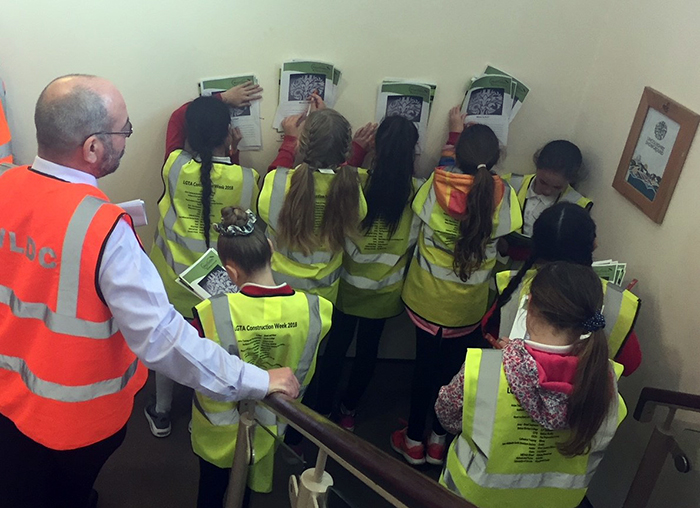 Phillip Westmorland, Building Control Team Manager, at West Lindsey said: "It is a great privilege to be sponsoring Construction Week 2018 at the Lincolnshire Showground. It was a brilliant opportunity to meet so many eager students and teachers and to be able to share our knowledge of construction with them."
Groups of children from St. Michael's School, Charles Baines School and many others, took part in a treasure hunt quiz across the Showground with the building control team, and even had the opportunity to win a special prize. The treasure hunt consisted of students finding items such as push bar signs, disabled toilet handrail and many more throughout the venue. Once the students had found the items a discussion was had as to why these items were needed and how they related to building regulations. 
Jen Wheeler, Teaching Assistant from St. Michael's Church of England School enjoyed taking part in the treasure hunt with her students, she said: "We had a brilliant day, and we all really enjoyed taking part in West Lindsey Building Control's treasure hunt. The students had the opportunity to ask lots of questions, and they all thought the task was very engaging – we loved being able to win a little hard hat to take home with us!"
Cllr Angela White, Member Champion for Young People and Skills at West Lindsey, was delighted to hear that Construction Week had been a success. She said: "Construction Week is an excellent opportunity for the young people of West Lindsey, and the wider Lincolnshire area, to learn new skills and benefit from the knowledge of industry experts. I am pleased to hear that West Lindsey Building Control are sponsoring this event – I hope that the children headed home after the event full of new knowledge and excitement for the construction industry."
The Construction Week event, took place between the 2 and 4 October.
If you're interested in getting in touch with your local council for free advice use the postcode finder at the top of this page.
Further information
Visit the West Lindsey District Council website for further information.
Sign up to the building bulletin newsletter
Over 48,000 construction professionals have already signed up for the LABC Building Bulletin.
Join them and receive useful tips, practical technical information and industry news by email once every 6 weeks.