Assured compliance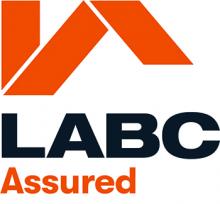 LABC Assured (previously Registered Details) is a one-off building regulations and standards assessment process for England, Wales and Scotland.
As the only scheme of its kind supported by all local authorities, LABC Assured can:
Streamline the building regulations application process.
Increase industry confidence in the building regulation performance and suitability of each registration.
Make the building control process faster, easier and cheaper by simplifying the submission route.
Provide a ready made library of checked systems and products for specifiers.
Help ensure simpler structural warranty approval through our association with our colleagues at LABC Warranty.
N.B. To see if a specific product is covered by LABC Warranty, please consult the product's LABC certificate which can be found by using the 'Search for an LABC Assured registration' button below.
Architects, specifiers and builders
Find an LABC Assured system, solution or building type:
Search for an LABC Assured registration
N.B. Following the recent changes to Building Regulation 7 (2), some registrations for products have been temporarily removed from the LABC website to allow changes to be made to the scope of registration. Products and systems that do not have sufficient supporting evidence proving they achieve a European Classification of A2-s1,d0 will have a clarification added to state that they will no longer be suitable for use on relevant buildings with a storey at least 18m above ground level and which contains one or more dwellings; an institution; or a room for residential purposes (excluding any room in a hostel, hotel or a boarding house).
LABC's Registered Construction Details are a set of thermal details designed to minimise heat loss through weak points in the building envelope.

Search for a detail that offers cost-effective compliance.