Another milestone in LABC quality management
LABC's ISO standard quality management system has gone from strength to strength with more than 230 LABC teams receiving accreditation or on the way to do so. This represents 87% of the teams in a 3,500 strong network.
The process began back in December 2017 when Alcumus ISOQAR conducted a review of LABC's quality management systems to determine conformance to ISO standards and suitability for purpose. 
 
During the audit every aspect of building control is subject to scrutiny from leadership of teams to individual commitment of team members, systems and controls, training and competency. A proportion of teams are also independently audited to make sure the audit process is consistent and fair.
  
By the end of 2018 more than 130 teams had gained accreditation – now that figure has risen to more than 200.
Tariq Abdoh, LABC's Head of Standards, said "I have been amazed and delighted by the way the LABC network has taken up the challenge to demonstrate the quality and standard of their service. The benefits of ISO certification are clear – better internal management, consistency and reliability of service and increased efficiency.  
As a result LABC teams attract new customers and find it easier to retain existing customers. Gaining accreditation by UKAS is an ambition for all public service building control and LABC are working hard to make sure the remaining teams join their colleagues in gaining a national and globally recognised quality management standard."
Further information
Why there is a focus on continuous improvement
Members - find out how to get started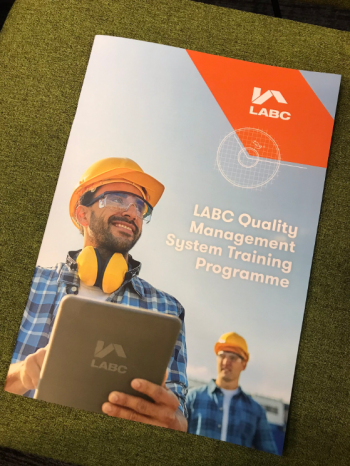 Sign up to the building bulletin newsletter
Over 48,000 construction professionals have already signed up for the LABC Building Bulletin.
Join them and receive useful tips, practical technical information and industry news by email once every 6 weeks.