LABC gains ISO accreditation for head office function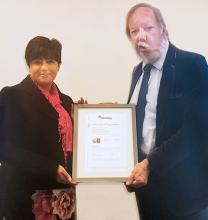 On Thursday 12 July LABC received its certificate for meeting the ISO standards for its Head Office quality management systems. Over the last 18 months the not-for-profit organisation representing public service building surveyors has invested heavily in an independently audited ISO quality management system for its 3,500 building surveyor members.
The award for LABC head office comes on top of the general accreditation of the first ten building control teams in June and first two Fire Safety Specialists in July.
Commenting, Paul Everall said, "I am delighted to receive this certification for our Head Office team. It follows on the heels of our first local teams, with more to come in the Autumn. LABC has introduced a National Standard – externally audited an all our 3,000 plus local surveyors will be expected to be accredited by the new year. We are determined to be ready, with the capacity and competences to meet all the challenges set for the industry as a result of Dame Judith Hackitt's review."
Nikki Sammé, director of Alcumus ISOQAR, responsible for the independent accreditation of LABC's certification, said, "We've seen overwhelming engagement from LABC, and the support behind the system is incredible. It all comes down to the strength of the relationships, which have led to so many teams going through the process in such a short amount of time. These standards adopt a risk-based approach, bringing consistency and quality to the building control network".
Further information
Comments
Testing
Submitted 3 years ago
Testing
Add new comment
Sign up to the building bulletin newsletter
Over 48,000 construction professionals have already signed up for the LABC Building Bulletin.
Join them and receive useful tips, practical technical information and industry news by email once every 6 weeks.