How to install downlighters the right way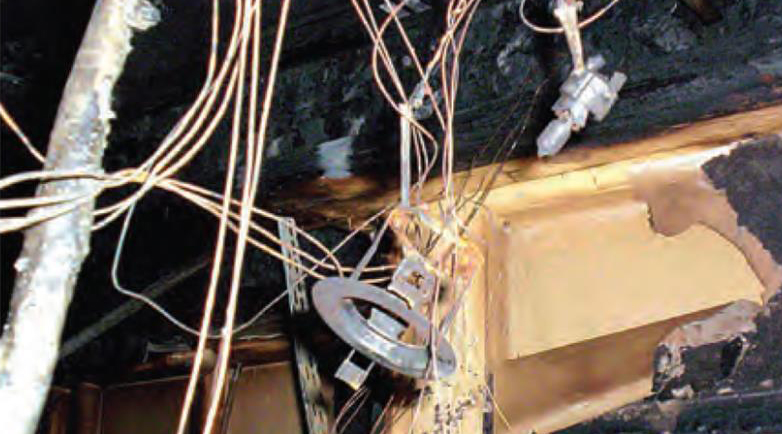 Result of a fire caused by downlighters (courtesy of Manchester City Council Building control) 
Downlighters have become the norm for lighting, particularly where head height is limited. Instead of a single light fitting there can often be multiple downlighters. While this may look attractive, there are a few key points to bear in mind when installing downlighters – the risk of fire, heat, noise and water vapour.
Fire
The photo above is the result of fire spread within a floor void caused by an electrical fault. This can occur when using substandard fittings, the quality of installation, heat build-up because of poor ventilation, or contact with combustible materials. Modern fire-rated downlights are either covered with a fire hood that blocks the spread of fire or come fitted with an intumescent pad that swells up when it reaches a certain temperature. 
Heat
Core drilling through the plasterboard can also damage many insulation products. You should never cut through or hollow out insulation boards, rolls or multifoils to accommodate the downlighter. Not only does it mean the insulation isn't performing correctly it also insulates the fitting with the potential to get hotter and hotter. Good practice is to have 75mm clear air space above fittings.
Noise and water vapour
Noise, condensation and water vapour can also be a problem when the vapour control layer, membrane or acoustic ceiling is cut through. Vapour always finds the easiest way out so not only will there be a vapour build up in the space above but the fitting may fuse or the bulb may have a shorter life - fittings can also degrade quicker when they're subject to moisture.
If you cut into a ceiling you must restore it to its original condition and not interfere with its natural ability to act as a barrier to fire, heat, noise and water vapour.
Key points to consider when installing downlighters
Downlighters can generate significant heat when fitted with halogen lamps. Maintain a safe clearance from any combustible materials.
Check the acoustic detailing when installing lights in separating floors.
Heat loss in roofs can be substantial. Ensure fittings are suitable for this location.
Use light emitting diode (LED) lamps wherever possible to minimise energy use and heat build-up.
To prevent air and sound leakage, check the specification to ensure the downlighters won't penetrate the insulation.
Properly seal light fittings to minimise the passage of water vapour to the roof space.
You can find out more from our free to download guidance
http://www.labc.co.uk/sites/default/files/labcpd0914_techg_dlight_dwellings.pdf 
http://www.labc.co.uk/guidance/resource-library/technical-guide-guide-safe-installation-downlighters-dwellings
It's also worth noting that the Electrical Safety Council (ESC) recommends fire rated downlights be used in all ceilings, regardless of which type of building they're being installed in. http://www.electricalsafetyfirst.org.uk/mediafile/100500804/Best-Practice-Guide-5-Issue-2.pdf  for more information.
Remember, if you're a homeowner it's your responsibility to ensure that any electrical installation in your home is either completed by a competent person scheme-registered electrician, or checked by one. Find out more, follow the link. 
Comments
Downlights
Submitted 1 year 5 months ago
With the advent of led downlights , the heat issue isn't the problem it used to be . I would be very interested to hear if anyone has sourced acoustic downlights rather than trying to use the secondary hoods ?
Thanks
Add new comment
Sign up to the building bulletin newsletter
Over 48,000 construction professionals have already signed up for the LABC Building Bulletin.
Join them and receive useful tips, practical technical information and industry news by email once every 6 weeks.