BRE Report raises concerns over post installation performance of cavity wall and external wall insulation
The BRE has produced a report that raises concerns over instances of inappropriate installation of retrofit wall insulation in homes in Wales. The study presents the results of an investigation of the unplanned side effects such as damp and cracks in walls and other faults for a small sample of Welsh dwellings which have been retrofitted with wall insulation.
The primary aims of the report
To identify the likely causes of any problems arising from the installation of cavity and external wall insulation (EWI) in these locations.
To identify any improvements in processes or methods that may prevent faults from occurring elsewhere.
To suggest any additional work that may assist in assessing the extent of these unplanned effects in Wales.
The main conclusions of the report are that in the buildings inspected, there is evidence that cavity wall insulation or external wall insulation, has been installed in properties that were unsuitable for installation, or without due regard for best practice.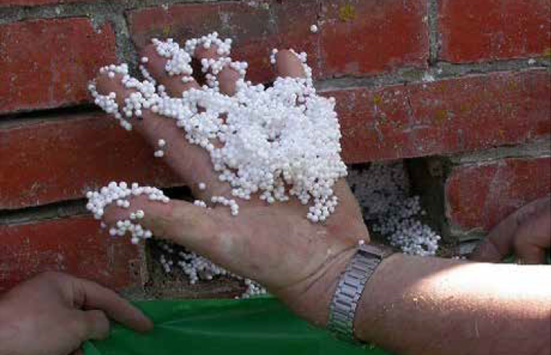 Example of saturated insulation
From the limited data available, all of the cavity wall failures occurred within the timeframe of the guarantee provision i.e. within 25 years, and in some circumstances in less than 10 years. For external wall insulation, the time frame for failure isn't known, but all of the issues identified as part of the report had occurred either at the point of installation or within two years of the installation.
The main recommendations in the report
To undertake a larger exercise in Wales to identify the extent of the issues identified.
To undertake an assessment of the competent person's scheme, in particular, the surveying and installation elements, with a view to providing specific guidance for improvements to processes such as the assessment of risks relating to the level of exposure to wind-driven rain.
To develop a concise maintenance guide for installers, housing managers, and occupants to help ensure that basic measures are taken to protect the insulation installation and thus make failure less likely.
Further information
Sign up to the building bulletin newsletter
Over 48,000 construction professionals have already signed up for the LABC Building Bulletin.
Join them and receive useful tips, practical technical information and industry news by email once every 6 weeks.