How to get it right: Perimeter insulation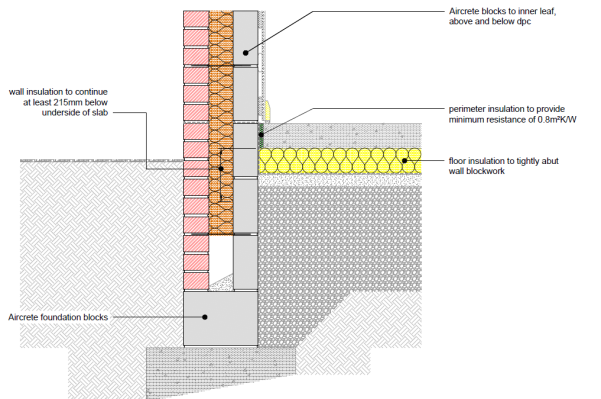 Perimeter upstand insulation performs a vital function in the thermal envelope of the building. It's used to prevent cold bridging at the edge of the floor where it meets the wall. Basically, it stops the heat from seeping out of the edges of the floor where the screed/concrete meets the wall.
A cold bridge or a thermal bridge is a weak spot in the insulation where heat can be lost and can account for as much as 34% of the thermal loss from cold bridging. In fact SAP software used to calculate the thermal efficiency of a building has a 15% default value built into the calculation process to account for heat loss at junctions.
So by using upstands this cold bridge can be reduced or even eliminated, increasing the thermal performance of the floor insulation and reducing energy costs.  
Ensure that the perimeter insulation isolating the screed has a minimum thermal resistance of 0.8Wm2K/W and is at least 25mm thick to prevent cold bridging.
The upstand should also overlap the wall insulation, with a minimum of 150mm from the bottom of the wall insulation to top of the insulation upstand.
The upstand should be tightly fitted against the wall and floor insulation so that there are no gaps. Good practice would be to place your floor insulation boards around the external perimeter first.
That way you'll use full sheets with a straight edge against the external wall and then offcuts can be used to make up the fit against internal walls or the centre of the floor.
Find out more Construction Details
Read more about other building insulation work
Sign up to the building bulletin newsletter
Over 48,000 construction professionals have already signed up for the LABC Building Bulletin.
Join them and receive useful tips, practical technical information and industry news by email once every 6 weeks.