Case study: The Atlas Building
Client: Downing
Main contractor: Downing
Architect: Fielden Clegg Bradley
LABC team: Liverpool City Council and London Borough of Lambeth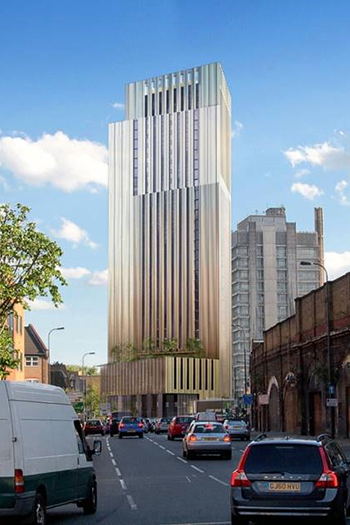 Project Summary
Downing's 32 storey 'Atlas' building in Vauxhall provides student accommodation, with 553 rooms plus roof gardens, a basement gym and pool.
Client
Downing is a Liverpool-based, national developer and construction company specialising in mixed use developments, student accommodation, property management and construction.
The local authority building control team
A partnership exists between Liverpool City Council's building control team and Downing which was established more than 16 years ago. Liverpool City Council provided design advice and plans appraisal and the London Borough of Lambeth carried out the site inspections in London. By working in partnership, relationships have developed with key members of the project team including architects, fire engineers, structural engineers, mechanical and electrical designers, and landscape architects. This has helped the team deliver schemes quickly, easily and with a high level of understanding of the clients' needs.
Key issues
A 'tight' triangular site with the UK's busiest railway on one boundary and a major road on another caused a problem when trying to connect the existing sewers and services. Close proximity to the train line and road meant the environmental and acoustic surveys were required.
Contact us for guidance before you get on site...
Unexpected
Existing sewer location and depth meant that a bespoke pumped solution was required for the foul drainage. Liaison with the London Borough of Lambeth and Thames Water resulted in an acceptable solution being adopted. The restricted site also posed problems achieving the required area of basement smoke vents due to pavement locations, below ground service runs and rainwater attenuation requirements. The type of smoke vents proposed was determined by the thermal line and the risk of condensation from the swimming pool environment. Sewer plans didn't reflect what was found and connections required fast liaison between the construction team, building control, Lambeth highways team and Thames Water.
Building control inputs
Liverpool City Council worked with Downing and Fielden Clegg Bradley from conception to completion. Feedback was provided to all members of the design team particularly with regard to the fire strategy, evacuation and site access, working with London Borough of Lambeth who provided support on consultation with the London Fire Brigade, Transport for London and Network Rail. Lambeth also provided the site inspections and worked with the project and site management teams to match the construction programme.
Features of note
Because of the restricted triangular site, detailed planning and implementation of the groundwork, piling and excavation for the basement pool and gym was required. The building is in inner city London so roof gardens have been included to create a spectacular amenity.
What did local authority building control add?
A bespoke inspection plan was agreed and Liverpool City Council worked closely with the architects, quantity surveyor and project management team to provide design feedback and agree alternative solutions. During construction both LABC teams worked with Downing's own site-based team to provide continuous contact throughout the project.
Do you need building control guidance for your complex commercial development? Get in touch!
Sign up to the building bulletin newsletter
Over 48,000 construction professionals have already signed up for the LABC Building Bulletin.
Join them and receive useful tips, practical technical information and industry news by email once every 6 weeks.