CIOB give kids construction inspiration in schools
A major new recruitment drive by the Chartered Institute of Building (CIOB) is targeting schools in a bid to reverse the poor image construction still suffers among teachers and their pupils in the 14–19 age group. 
CIOB have recently launched their 'Think Construction' toolkit. Developed in partnership with young people and teachers to help CIOB members provide careers advice sessions.
Various channels are used to describe the career opportunities across the sector open to those with or without a degree. CIOB are currently working with Inspiring the Future to provide a match-making service which puts schools, CIOB Members and their firms in touch with each other and aids introductions.
CIOB's Commercial Director, Jacqueline Balian said: "We are very conscious that many pupils and schools are only aware of the trade level jobs in construction and that is hampering the sector's recruitment scope. We aim to show the full range of management positions and help our members attract the new people they need. Now that they have clear targets in terms of careers advice, schools are looking for people to talk to pupils about careers and CIOB Members can volunteer to do that."
"We are particularly keen to get our Novus Members involved where they can talk in schools about their job and what it's like to work in construction. We are asking Members to give us just one hour of their time to inspire young people into the sector."
She added "We think this will also help our members develop their presentation skills and the toolkit gives them all the content they need to do a really engaging presentation including video clips, games, information, and presentation templates."
'Think Construction' is just one of many initiatives CIOB have developed to engage with young people. It follows on from construction challenges being taken into more than 4,000 UK schools and colleges through 'My Kinda Future' and development of Craft Your Future, the industry's first Minecraft lessons.
Construction industry efforts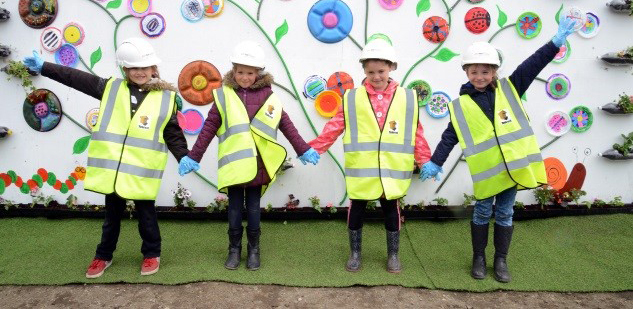 There has been an industry-wide drive to engage with younger people to educate them about the construction industry and the opportunities available to them.
For example, The Cheviots, Ashington in Northumberland won the 2017 LABC Northern Region Building Excellence Award for the Best Social or Affordable New Housing Development and throughout this project, community engagement was achieved through various channels:
Workshops were delivered to a nearby school to encourage pupils to understand the opportunities, choices and support available from those working on the project.
Pupils from schools were invited on site where they were encouraged to help create a living wall as part of a national competition.
Pupils made bird feeders, bottle gardens, a bug hotel and filled pallets with seeds.
This theme was then continued in the design of the project as they envisioned the site leaving a positive legacy in the area.
The site also won the Ivor Goodsite hoarding competition which is a hoardings competition together with a Gold 'Most Considerate Site' award from the Considerate Constructors Scheme, (CCS).
Getting children involved in this project provided them with exposure to the industry from a young age, showing the different roles and impact the young people can have in a career in construction.
Further information
For further information, visit: http://www.ciob.org/campaigns/think-construction
Sign up to the building bulletin newsletter
Over 48,000 construction professionals have already signed up for the LABC Building Bulletin.
Join them and receive useful tips, practical technical information and industry news by email once every 6 weeks.