With the horrific events of recent months, the importance of fire safety has rightly never been more in the spotlight.
The annual Fire Door Safety Week 2017 runs from 25 September to 1 October and in the run up to the event we're highlighting some of the key issues to stop misunderstandings, the legacy of neglect and to promote awareness of the critical importance of fire doors.
One article examines the evidence of ten shocking fire door felonies found as part of the Fire Door Inspection Scheme. Have you seen a door that's guilty of these? (explanations in the table below):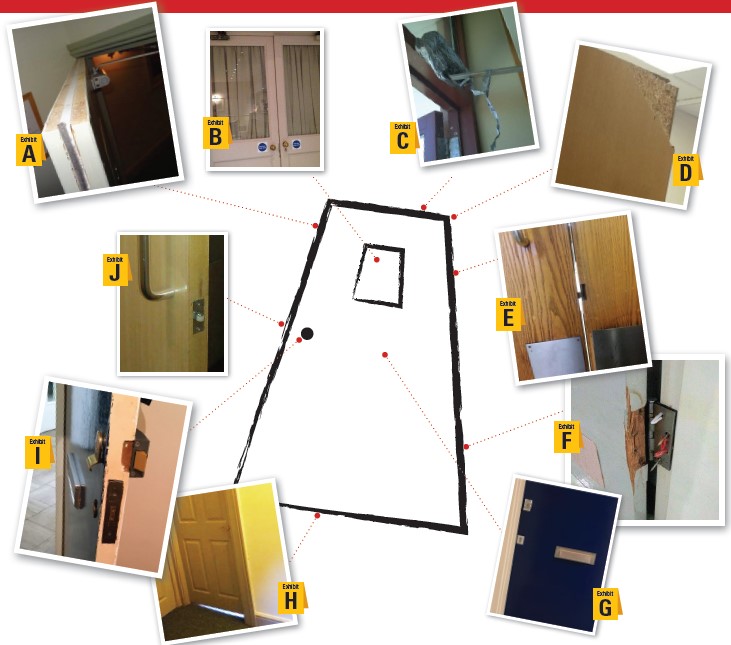 | Photo | Incriminating evidence | Why it's dangerous |
| --- | --- | --- |
| A | Intumescent seal missing or damaged | Hot gases and smoke will flood into the adjacent room |
| B | Non-fire-rated glass used in the door | Glass will crack or shatter and allow fire to spread rapidly |
| C | Broken door closer stops the door closing | A door that can't close is a clear path for the fire |
| D | Damage to the corner of the door leaf | Fire and smoke will surge through the gap into the next room |
| E | Big gap around the door leaves | Fire and smoke easily find their way through gaps |
| F | Wrong fixings used for the door hinge | The door will be loose in the frame and won't close properly |
| G | Non-fire-rated letter plates fitted to the door | The fire will spread quickly through the letter box into the adjacent room |
| H | Gap under the door is more than 10mm | Big gaps like this give smoke and fire an easy route |
| I | Voids in the door leaf due to removed ironmongery | Voids will compromise the fire resistance of the door |
| J | Ball catch used to latch the door | The door won't latch properly and could open during a fire |
Further information
Read about and pledge your support to Fire Door Safety Week and browse our Fire doors articles.
Sign up to the building bulletin newsletter
Over 48,000 construction professionals have already signed up for the LABC Building Bulletin.
Join them and receive useful tips, practical technical information and industry news by email once every 6 weeks.