Fixing our broken housing market - government white paper
The 'Fixing our broken housing market' white paper launched in February 2017 continues in the same hard-hitting fashion of the Farmer Report 'Modernise or Die' published in October 2016. 
It begins with the introduction, 'The housing market in this country is broken, and the cause is very simple: for too long, we haven't built enough homes.'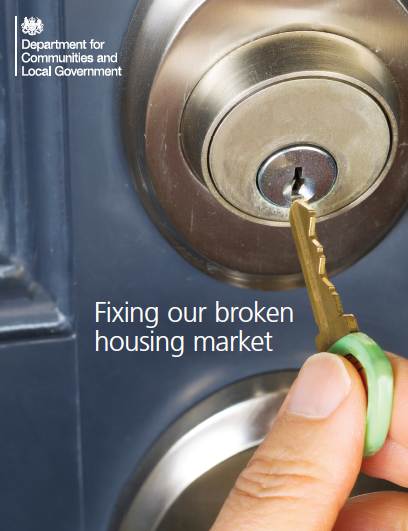 Since the 1970s, there have been around 160,000 new homes built each year in England. The consensus is that we need between 225,000 and 275,000 or more new homes per year to keep up with population growth and start to tackle years of under-supply. This isn't because there's no space or because the country is "full"- only around 11% of land in England has been built on.
The white paper indicates that the problem is threefold:
there aren't enough local authorities planning for the homes they need
house building is simply too slow
the construction industry is too reliant on a small number of big players
The laws of supply and demand mean the result is simple...
Since 1998, the ratio of average house prices to average earnings has more than doubled. That means the most basic of human needs - a safe, secure home to call your own, is just a distant dream for millions of people, and it's a dream that's moving further and further away.
In 21st century Britain it's no longer unusual for houses to "earn" more than the people living in them. In 2015, the average home in the South East of England increased in value by £29,000, while the average annual pay in the region was just £24,542. 
The proposals in the white paper set out how the government intends to boost housing supply and, over the long term, create a more efficient housing market whose outcomes more closely match the needs and aspirations of all households and which supports wider economic prosperity.
The paper seeks responses to a series of questions covering:
Getting plans in place
Making enough land available in the right places
Strengthening neighbourhood planning and design
Providing greater certainty
Ensuring infrastructure is provided in the right place at the right time
Holding developers and local authorities to account
Affordable housing
Sustainable development
Meeting the challenge of climate change
Flood risk
Noise and other impacts on new developments
Onshore wind energy
Make your voice heard
The consultation closes on 2 May 2017 and if you haven't already, there's still time to contribute at:
https://www.gov.uk/government/publications/fixing-our-broken-housing-market
Sign up to the building bulletin newsletter
Over 48,000 construction professionals have already signed up for the LABC Building Bulletin.
Join them and receive useful tips, practical technical information and industry news by email once every 6 weeks.