Full fill masonry cavity walls and exposure to wind-driven rain
Knauf Insulation's Earthwool® DriTherm Cavity Slabs are approved for use in all exposure zones by the British Board of Agrément.
The possibility of wind-driven rain penetrating a cavity wall depends on the exposure level of the site or building. This varies according to where it is in the country, topography and various site factors.  
Following problems with rainwater penetration in parts of the UK in the 1980's, Approved Document C of the Building Regulations was introduced in 1985 and highlighted where consideration must be given.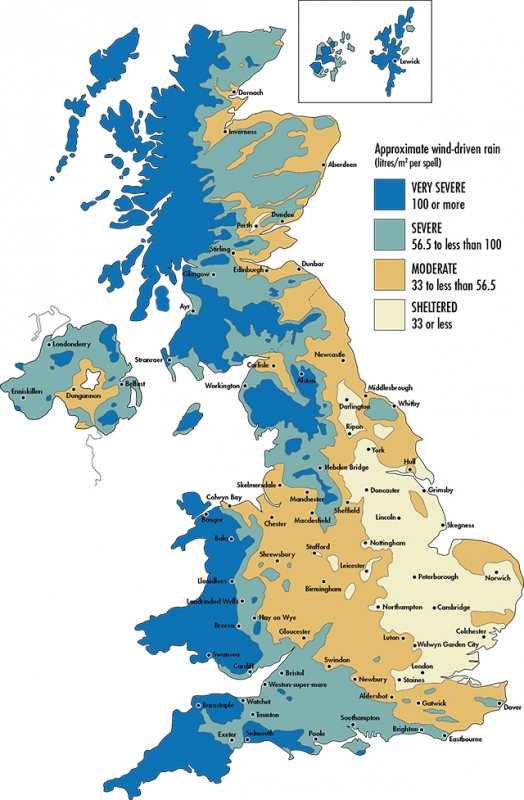 The principal change was that the use of full-fill cavity wall insulation was not permitted in areas of very severe exposure to wind-driven rain where fairfaced masonry is used for the outer leaf.  However, the rules also reflected the reduced risk where impermeable and rendered outer leaf constructions were used and therefore permitted the use of full fill insulation.
At the time of introduction, the standard cavity width between the inner and outer leaf of masonry was significantly narrower than it is today (often just 50mm). Energy efficiency standards have progressively improved since then and cavity widths have increased to accommodate greater thicknesses of insulation. It is now more common to see cavities wider than 100mm in both new homes and extensions.
It is widely recognised that as cavity widths increase the likelihood of rain penetration reduces.
The rules in Approved Document C have changed to reflect the alterations and in the current 2010 edition it is permissible to build with full-fill insulation behind tooled flush jointed fairfaced masonry providing the cavity is a minimum of 150mm wide.  However, this is not the case with Warranty provider technical standards where the restriction on full-fill remains.
For clarity, the requirements discussed above are summarised in Table 1. It should be noted that recessed jointing on masonry flush cills and copings are not permitted in very severe exposure zones. Similarly, all other aspects of good practice concerning rain resistance and masonry cavity walls should be respected.
Table 1.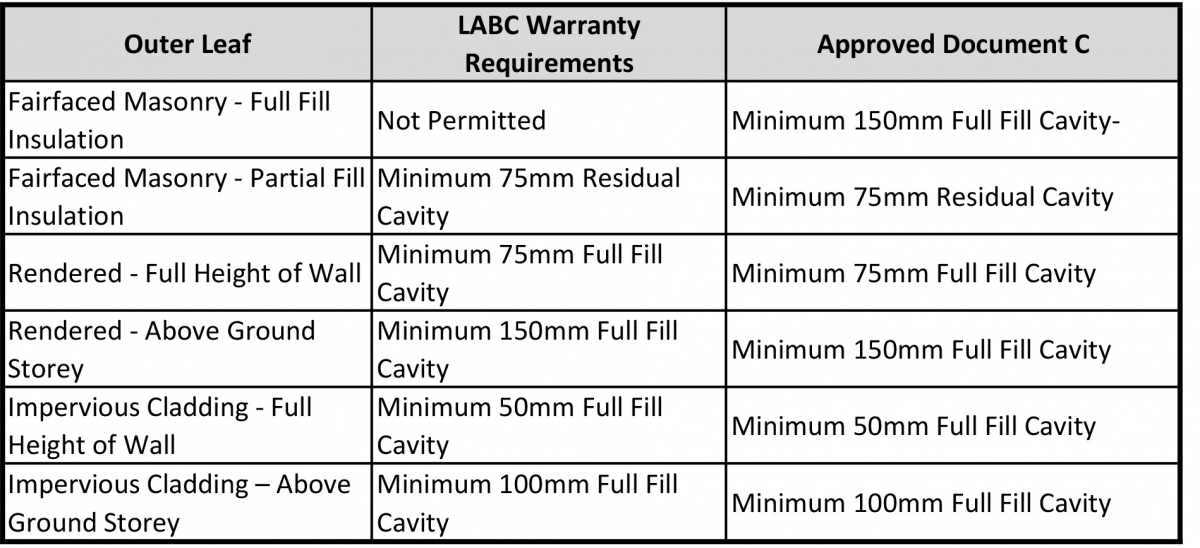 From this, it can be seen that Earthwool DriTherm full-fill is a valid option for masonry cavity walls in very severe exposure zones where impermeable and rendered outer leaf constructions are to be used. Those using full-fill solutions are making the savings available, whilst still achieving the thermal performance required to meet compliance with Building Regulations and provide thermally efficient buildings.
Please Note: Every care was taken to ensure the information was correct at the time of publication. Any written guidance provided does not replace the user's professional judgement. It is the responsibility of the dutyholder or person carrying out the work to ensure compliance with relevant building regulations or applicable technical standards.
Sign up to the building bulletin newsletter
Over 48,000 construction professionals have already signed up for the LABC Building Bulletin.
Join them and receive useful tips, practical technical information and industry news by email once every 6 weeks.