CROSS report: Basement retaining wall excavation collapse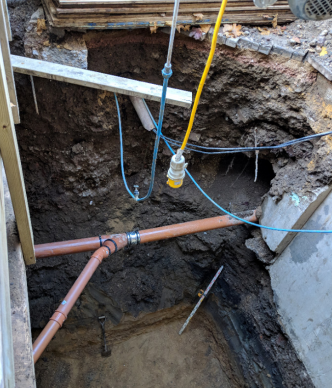 A recent CROSS newsletter featured a report about a basement retaining wall excavation collapse in order to highlight the importance of sufficient propping during excavation.
A design project on a 1980s terrace sought to develop a residential basement under the existing property which was constructed on reinforced concrete beams and piles. The basement size was 12m (L), 6m (W) and 6m (D) and soil investigation showed made ground with decent gravel at approximately 5m deep.
In order to prevent differential movement of the terrace the design of the basement was a separate concrete box, isolated from the piled structure. The basement walls were to be cast using the hit and miss underpinning methodology with 1.2m wide pins. The pins were designed to be stable when propped at the base by the basement slab and in the temporary case, the pins required cross pinning.
A temporary works design was provided; suggesting that the pins were to be cast in two drives. The first drive would be to a depth of 3m forming a box around the site, with the pins cross propped. The second drive would be to the full depth (again cross propped) and the basement slab then cast.
Against the designers recommendations the contractor increased the width of the pins from 1.2m to 3m at the beginning of construction. During construction the client then altered the brief, requesting that the basement length be extending to the edge of the site.
Instead of then excavating in 1.2m wide pins the contractor excavated across the whole 6m width. Steel trench sheets with walling beams and braces back to the concrete underpins were provided as temporary works. Apparently these works were not designed, drawn or checked with the structural elements undersized.
As a result of this, the temporary works buckled and the entire excavation collapsed. There was a manhole at the edge of the site where the basement was extended towards that was leaking which also may have contributed to the collapse.
Fortunately there were no fatalities, however this highlights the importance of having all works designed, drawn and checked to avoid damage to the property and most importantly ensure safety for occupants and those on site.
Your local authority building control team are on hand at all times to offer advice before you submit an application, during construction and if you encounter a dangerous structure.
Sign up to the building bulletin newsletter
Over 48,000 construction professionals have already signed up for the LABC Building Bulletin.
Join them and receive useful tips, practical technical information and industry news by email once every 6 weeks.