Infographic: What you need to know about changes to Regulation 7
James Brokenshire, Secretary of State for Housing, Communities and Local Government recently outlined further actions for local authorities following the Grenfell tragedy.
Among the announcements were amendments to the Approved Documents confirming what materials can be used on cladding systems and additional guidance for local councils.
Below is a handy infographic summary highlighting the changes to Regulation 7 of the Building Regulations as a result of this announcement – feel free to share on social media or print out as a reminder.
The main points
The changes to Regulation 7(2)-(4) come into effect 21 December 2018
All work commencing after 21 February 2019 must comply with the new Regulation 7(2)-(4)
Commencement of in-scope buildings after 21 February must be redesigned with a European Classification of A2-s1, d0 or Class A1
In-scope buildings are buildings above 18m which are:

Of one or more dwellings
Institutional buildings
Rooms for residential purposes, e.g. 

blocks of flats, student accommodation, care homes, hospitals and residential schools

Approved Document B Diagram 34 and BR135 classifications no longer apply to in-scope buildings
Desktop studies are no longer allowed on in-scope buildings
Download the infographic by clicking the image below: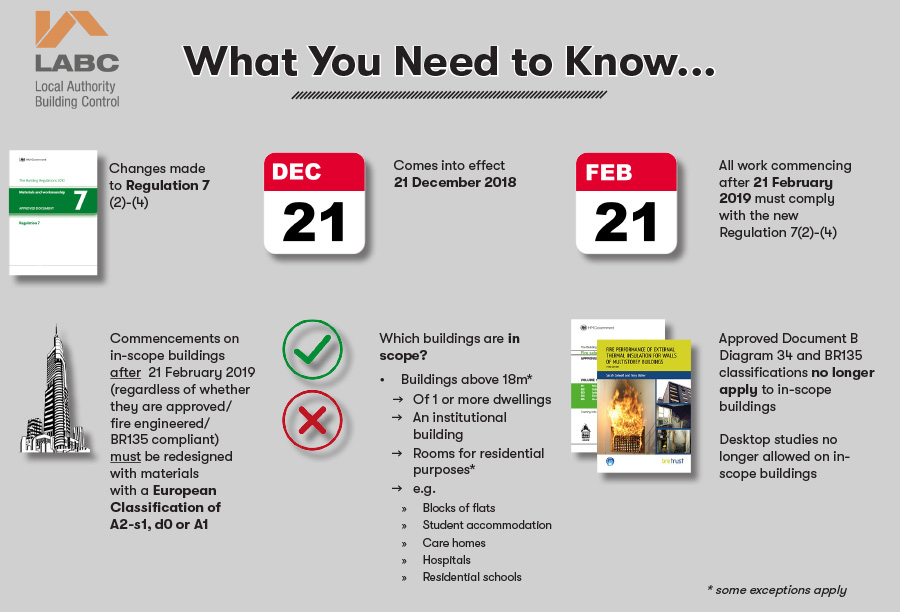 Sign up to the building bulletin newsletter
Over 48,000 construction professionals have already signed up for the LABC Building Bulletin.
Join them and receive useful tips, practical technical information and industry news by email once every 6 weeks.