LABC appoints Deputy Chief Executive
LABC has appointed Lorna Stimpson, BSc, FCIOB, FCMI, CBuildE FCABE as Deputy Chief Executive. Lorna moves from Deputy Managing Director as part of the organisation's long-term management and succession planning.
Lorna worked as a Building Control Surveyor for 21 years before joining LABC. She is a BRAC member and sits on a variety of committees including the Joint Regulators Group advising officials about the potential functioning of the JCA and its pilots.
In her career at LABC Lorna has led on the implementation of LABC's programmes on best practices, standards, performance measures and competency, creating a UKAS accredited quality management system for public service building control and bringing in third party validation of its most experienced and competent surveyors in association with the Institution of Fire Engineers.
Lorna has supported LABC's continued investment in standards and competencies by establishing a series of ground breaking building control qualifications accredited by the Chartered Institute of Building. She set up the trailblazer employer group that developed a Level 6 Building Control Apprenticeship Standard (BSc Hons in Building Control).
In addition to formal learning pathways, Lorna rolled out a national comprehensive building control competency matrix, an online learning platform which holds hundreds of building control specific learning modules all of which are provided free of charge to local authority teams (link for members).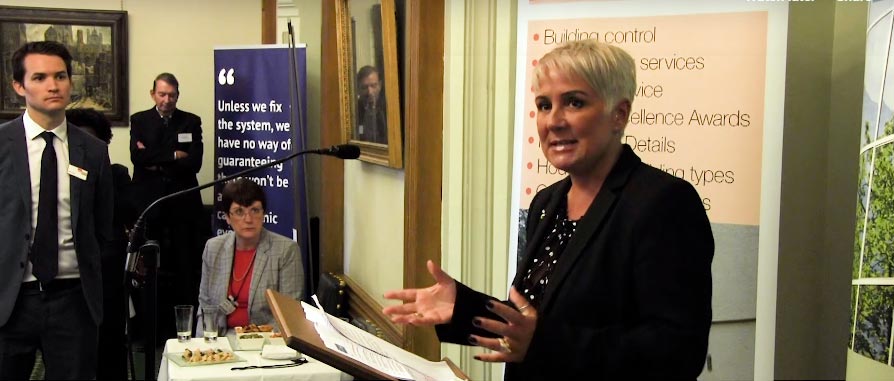 LABC Chief Executive, Paul Everall, commented, "I am delighted to have Lorna as Deputy Chief Executive.
"She is a vigorous proponent of public service building control and her experience and enthusiasm has transformed the way LABC does business.
"LABC along with the rest of the construction industry is changing as a result of Dame Judith Hackitt's report.
"We are focussing on changing the culture away from the race to the bottom competition to properly competent and capable regulators working to drive standards up and clamp down on those who continue to cut corners.
"Lorna has been leading our work on this transformation and will be well placed to lead not only LABC in the years to come but be a voice for the whole industry."
Comments
LABC new Deputy Chief Executive
Submitted 3 months ago
Congratulations Lorna. Excellent news on your well deserved promotion! Thrilled for you!
Add new comment
Sign up to the building bulletin newsletter
Over 48,000 construction professionals have already signed up for the LABC Building Bulletin.
Join them and receive useful tips, practical technical information and industry news by email once every 6 weeks.