London region celebrates building excellence
LABC hosted this year's London Building Excellence Awards in the beautiful surroundings of the Guildhall in the City of London on Friday, 11 May 2018.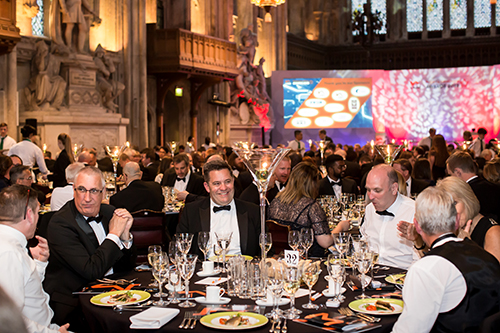 There were more than 450 guests including representatives from the 15 winning and six highly commended projects, all entertained during a 20-minute set by comedian Nick Page. LABC's own Managing Director Phil Hammond was host for the evening. 
The LABC awards reward technical excellence and innovative solutions to challenging conditions and winning projects ranged from a 170,000 sq ft office building, 4 Pancras Square, King's Cross, to an extension on a small Victorian terraced cottage.
LABC's Chief Executive Paul Everall said, "The awards are an opportunity for us to celebrate some of the very best in construction in England and Wales, recognising the high level of quality and skill we can and do reach in the UK."
Representatives of LABC sponsors Abbey Pynford, Actis, FMB, Home&Build, Jewson, LABC Acoustics, LABC Warranty, Polypipe Terrain and Swiftclean presented trophies and certificates on the evening.
The winners automatically go into the Grand Finals, which will be held on Friday 9 November at the Westminster Park Plaza in London.
Around £4,500 was raised for LABC President Chris Griffith-Jones' chosen charity, the Oracle Cancer Trust.
View and download free photos of the evening.
Are you a winner?
Sign up to the building bulletin newsletter
Over 48,000 construction professionals have already signed up for the LABC Building Bulletin.
Join them and receive useful tips, practical technical information and industry news by email once every 6 weeks.