Retail: Marks and Spencer Sustainable Flagship Store
The challenge
The proposed Marks & Spencer store at Cheshire Oaks was set up as a flagship sustainable store
The objectives
Delivering a sustainable development was an important objective for this development, and aims to minimise the amount of CO2 emitted and waste sent from the construction site to landfill. M&S also hoped to make large energy savings and use a large amount of materials from sustainable sources. Additionally, they targeted an Excellent BREEAM rating and a high Considerate Constructors score.
The outcome
The Excellent BREEAM rating was attained and the Considerate Constructors score was an impressive 38 / 40.
A report by the Technology Board in 2013 found that the store in its first year had:
•    Achieved a 42% reduction in energy use compared to an equivalent store (thanks to the use of a biomass boiler plant and heat reclamation from refrigeration systems)
•    40% fewer carbon emissions
•    Excellent building insulation with less than one degree of heat loss overnight in winter
•    A rainwater harvesting system that was supplying a third of the store's water
And pleasingly, the design features and successful build has resulted in positive feedback from both customers and employees.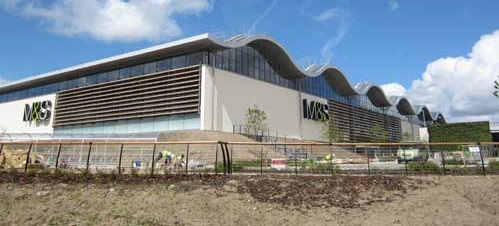 How the local authority building control team helped
The size and complexity of the project warranted agreement from all parties in the early stages.
The scheme was being developed through a shell and fit out procurement. Two partner authorities were involved - the City of Lincoln approved the shell and Birmingham the fit out. Cheshire West and Chester were the inspecting authorities who had responsibility for site inspection.
It was decided to bring together the design team headed by the developer and contractor Simons, architects Aukett Fitzroy Robinson, Aecom the structural engineers and the building control team to a pre-application meeting.
The meeting provided an ideal opportunity to meet with colleagues from the other side of the country and explain the scheme and methodology of development.
The purpose of the early meeting was to set down principles for approval and inspection to help coordinate between the shell and fit out works. This enabled a smooth transition between the two and the success of this early meeting proved to be extremely useful.
Contact your local authority building control department or:
Find out what local authority building control can do for you
Sign up to the building bulletin newsletter
Over 48,000 construction professionals have already signed up for the LABC Building Bulletin.
Join them and receive useful tips, practical technical information and industry news by email once every 6 weeks.