Beware of PU foam fillers
Polyurethane (PU) foam fillers - also known as 'fire foam' - are common in construction, but if you use them without properly understanding them they can end up costing you money, creating worse fire risks, and potentially ruin your hard-earned reputation.
Fire foams are usually tinted pink to distinguish them from other non-fire rated foams, but they're all different and have varying functions and properties - make sure you're using the right one.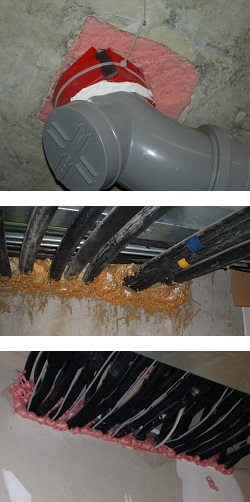 Normally expelled from pressurised cans as a sticky liquid, which quickly expands to around 40 times its original volume to form rigid foam, PU foam is designed to fill small linear gaps or service penetrations. Without clear manufacturer's guidance, they shouldn't be used to fill large voids or openings as the foam's fire-stopping properties may only be effective and tested in narrow voids or gaps. (See images above and to the right that show incorrect usage).
Key points to remember about PU foam fillers
Try not to use them at all. Take care to cut and install fire protection so that it fits exactly. Use proper collars and seals if compartments need to be penetrated.
PU foams are combustible and generally will only offer fire-stopping properties when used in narrow voids or gaps
Fire foams are usually tinted pink to distinguish them from other foam products but they're not all the same - read the instructions
Most are only suitable where the gaps to be filled are 10-30mm wide, such as bed and side joints to lintels, frames, and small penetrations in blockwork walls or concrete floors
The use of foams in timber structures is not likely to achieve satisfactory fire-resistant results
Some fire-resistant foams are specifically designed and tested to fill larger gaps. Closely follow the conditions of use stated in the certification if installing a fire-rated foam product
Check what independent third-party tests have been carried out to show any PU foam's suitability before use
There are life safety implications – use the foam correctly and in the right situations to achieve conformity with the Building Regulations.
Is your PU foam properly tested?
PU foam products must have their fire performance determined by testing to standards BS 476 Part 20/22 and BS EN 1366-4 for linear gaps and BS EN 1366-3 for service penetration seals. Visit the Association for Specialist Fire Protection website for more information on fire safety and protection in construction.
Comments
Data cabling
Submitted 5 years 2 months ago
The other factors that also require highlighting with PU Foams are the PU foams affect on the cables or plastic pipes (PU may soften CPVC and PB plastic pipes causing failure) - due to the hydroscopic nature of PVC & LSZH and also due to the high heat created within the foam ball or seal.... etc

In addition the PU Foams can affect the dielectric constant of data cabling. Chemical ingress can change the dielectric constant of a cable thus causing a change in the impedance value and causing failures in data transmission. However the change in the dielectric constant may not show up immediately but could occur in a longer time frame. This can be due to the hydroscopic nature of PVC and LSZH cable which can cause a capillary action of the Chemical within the cable.
Over use of pink fire foam
Submitted 4 years 4 months ago
Is there any safe efficient way of removing pink fire foam?
Reply to: Over use of pink fire foam
Submitted 4 years 4 months ago
Hi there, thanks for your enquiry.

If there's been a COSHH Assessment for the product, the relating document should advise on how to safely remove it.

Regards,

LABC
Add new comment
Sign up to the building bulletin newsletter
Over 48,000 construction professionals have already signed up for the LABC Building Bulletin.
Join them and receive useful tips, practical technical information and industry news by email once every 6 weeks.
Subscribe to the Building Bulletin