Offset foundations: For when you're tight to the boundary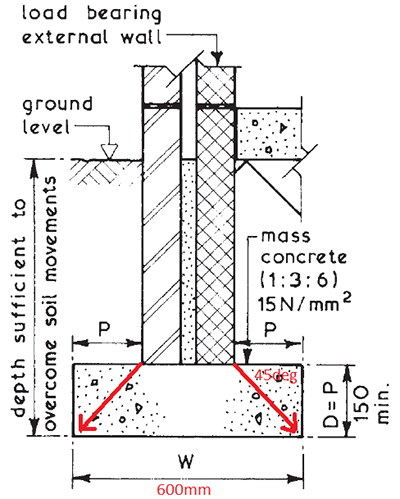 (Article updated 28 November 2017.)
The typical low rise domestic foundation detail to the left might be familiar to you. It's taken from the ​Building Construction Handb​ook 10th Edition, written by Roy Chudley & Roger Greeno.
First published in 1988 it's been one of the most popular reference books for anyone attending college and university construction courses. 
It lays out quite clearly how foundations work where the load is applied centrally onto a minimum 150mm thick concrete strip foundation.
A 600mm wide foundation gives a 150mm projection either side of the wall (equal to the depth of concrete) and this allows the load to be distributed at 45 degrees across the entire width of the foundation into the supporting strata below.
But what can you do when you can't achieve the 600mm spread because you can't trespass across a boundary or if there is already another foundation next door?
If you can't use a 450mm wide trenchfill foundation instead, another solution is to build an offset foundation.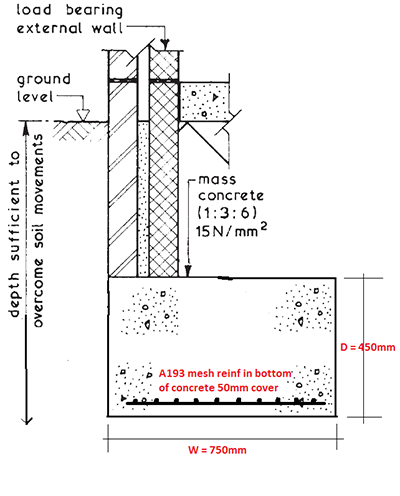 The offset foundation
Its 750mm wide and 450mm deep with a layer of A193 mesh placed in the bottom of the concrete with at least 50mm cover to the steel.
This detail will usually be suitable for single storey domestic extensions but will depend on the type of ground encountered.
If the allowable bearing pressure of existing subsoils is less than 100 kN/m2 at the formation level, you will need a structural engineer to design it for you or will have to change to another foundation type such as a raft or piled foundation.
Further information
Underpinning existing foundations
Trees and foundations (foundation depth calculator)
Published November 2017
Sign up to the building bulletin newsletter
Over 48,000 construction professionals have already signed up for the LABC Building Bulletin.
Join them and receive useful tips, practical technical information and industry news by email once every 6 weeks.