When and how to cut stepped foundations on a sloping site
When there are significant changes in level on a building plot or, if the profile of a decent load-bearing strata slopes, it can be difficult to work out how to keep costs down when digging out foundations.
If you're cutting into the slope then it can result in very deep excavations and a lot more money to cart away the spoil and replace it with concrete.
Introducing a step, or steps, in the foundation can save time and money and still ensure that the building is structurally sound as long as it's done right.
Guidance is given on how this should be done in Approved Document A 2E2(d-e). It says:
d) Foundations stepped on elevation should overlap by twice the height of the step, by the thickness of the foundation, or 300mm whichever is the greater. For trench fill foundations the overlap should be twice the height of the step or 1m whichever is greater.
e) Steps in foundations should not be of greater height than the thickness of the foundation: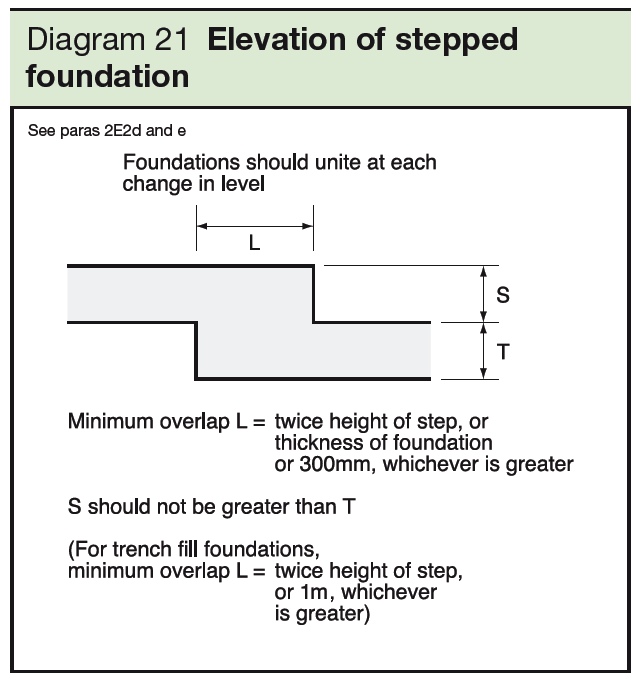 So if you're going to pour a strip foundation and want to include a 300mm step (S) then the concrete must be at least 300mm thick (T) and project past the step (L) by at least 600mm (2xT, 2xS and is greater than 300mm). 
If you were pouring a 900mm deep (T) trench fill foundation and want to include a 300mm step (S) then the foundation should project past the step (L) 1m as this is greater than 2S (600mm).
The foundation should be continuous (unite) at each change in level.
Formwork fitted into the trench sides at the correct position to form the step will allow the concrete to be poured in one go. If concrete is poured in stages then steel tie bars (at least 2 x 12mm diameter bars 600mm long with at least 50mm concrete cover to each pour) or reinforcement mesh should be used to ensure full connection between the two pours.
Interested in reading more about this kind of work? These picks might help you:
Please Note: Every care was taken to ensure the information was correct at the time of publication. Any written guidance provided does not replace the user's professional judgement. It is the responsibility of the dutyholder or person carrying out the work to ensure compliance with relevant building regulations or applicable technical standards.
Comments
(No subject)
Submitted 1 year 3 months ago
Nice post
Add new comment
Sign up to the building bulletin newsletter
Over 48,000 construction professionals have already signed up for the LABC Building Bulletin.
Join them and receive useful tips, practical technical information and industry news by email once every 6 weeks.