Replacing handrails and balustrades on stairs in the home
More and more homeowners are carrying out adaptations to the stairs and landings in their home. Fashions have changed and the increased appeal of minimalist and contemporary materials for handrails and balustrades (stair or landing edge barrier) is growing.
For example.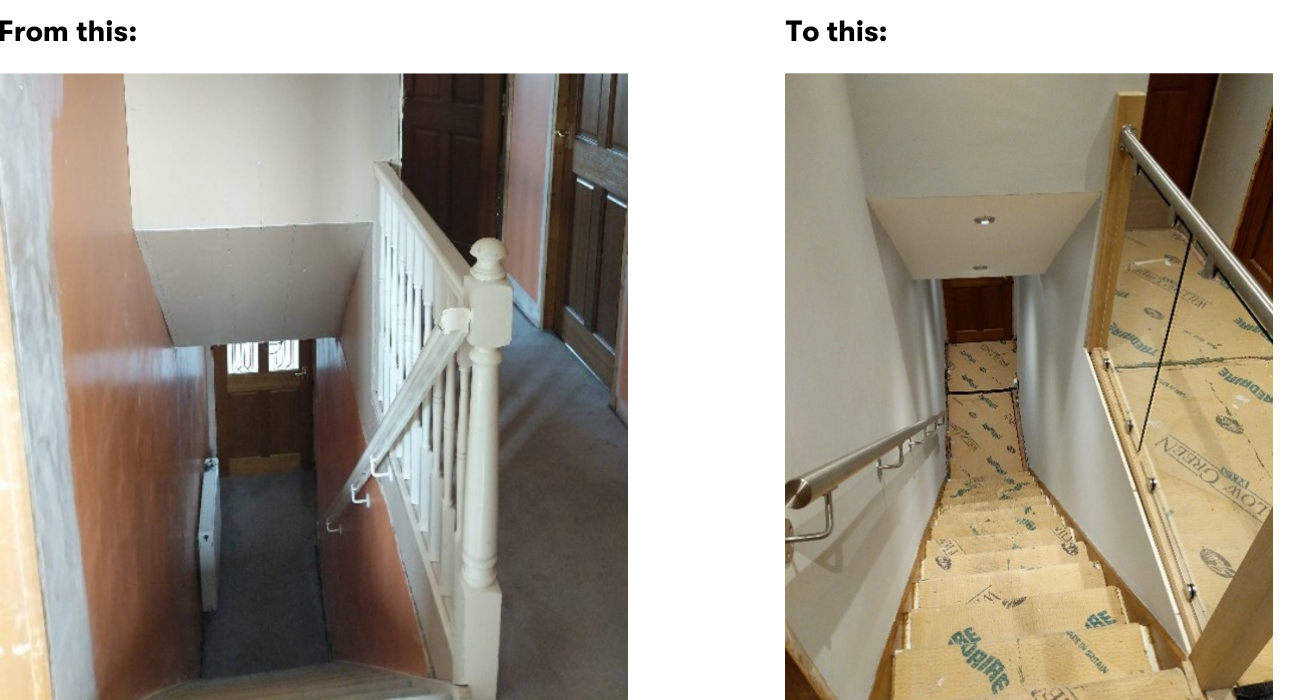 However, it's not uncommon to come across stairs that have been modified, where either the handrails or balustrades (or both) have been removed, leaving an open plan appearance to the room or staircase.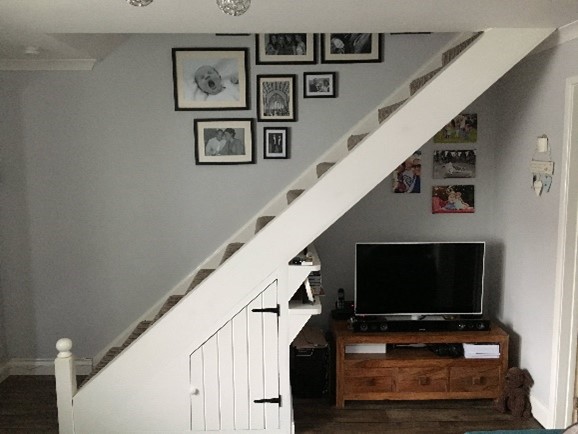 This particular fashion has often been portrayed on mainstream TV home refurbishment programmes. It cannot be emphasised enough how dangerous an unprotected staircase or landing can be.
In 2020 RoSPA published its 'Safer by design' guide, to highlight the importance of home safety and to help reduce accidents in the home. The guide indicates that over 60% of all accidents are because of falls.
Falls on steps and stairs are a leading cause of accidental death in the home, with at least 700 people dying as a result of falling on domestic stairs every year. Falls between levels tend to affect young children the most. Each year, they account for more than 80 deaths and more than 54,000 visits to A&E, 4,000 of which are likely to result in hospital admissions.
What to consider when refurbishing handrails and balustrades in the home.
Ironically, even though many accidents and subsequent injuries (some of which can be life changing/threatening or fatal) can and do occur on stairs, work to alter or replace existing handrails in a home is generally uncontrolled under the building regulations and need not be notified to the local authority. 
However, a word of caution, work on handrails to steps or stairs that provide access to lower/upper parts of the split level ground (entrance level) floor of a house or flat, or to a staircase in any home that has been built to the requirements contained in Parts M4(2) (Accessible and adaptable dwellings) or M4(3) (Wheelchair user dwellings), will be classed as a material alteration affecting Part M (Access and use) of the building regulations. 
Regardless of whether the work is controlled or not under Building Regulations, the consequences of not providing safe handrails and balustrades can be potentially fatal and should not be undertaken lightly.
Whenever a handrail and/or balustrade is being refurbished or being replaced, the following matters should be carefully considered and are intended to be good practice.
Check to establish if the home was designed to M4(2) or M4(3) access standards and, if so, notify the local council about the work beforehand, by submitting either a Building Notice or a Full Plans application. If the work is to alter the handrail or balustrade to the steps serving a split-level ground floor, the work will need to be notified to the local council. 
It is recommended to always replace or reinstate the handrail and/or balustrades – even if they did not exist originally.
A handrail should always be positioned on at least one side of the staircase. 
If the staircase is 1m wide or more, a handrail should be provided on both sides.
The handrail should follow the pitch-line (the angle or rake) of the staircase and be firmly fixed into place by support brackets at suitable centres. For example, a handrail of up to 4m long might need 4 or 5 support brackets.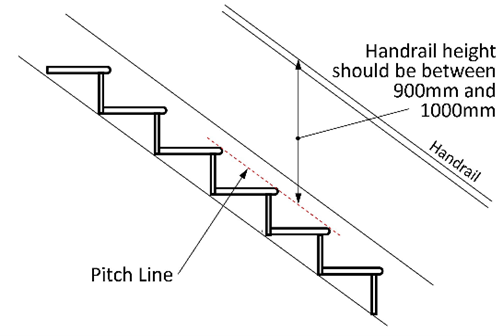 Brackets must be firmly fixed into a solid wall or supporting post/batten to ensure the rail provides firm support.
The top surface of the handrail(s) should be between 900mm and 1000mm above the pitch-line of the staircase.
Handrails should provide a suitable surface to hold onto/grip to offer the best form of support. Circular or oval shaped rails (as shown in the diagram) are preferable, as users can grasp the rail more easily.
Handrails should not extend into/over the staircase by more than 100mm and the space on the knuckle side should be at least 50mm wide.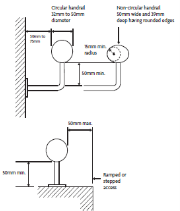 Brackets or spindles should be fixed underneath the handrail to stop users catching their fingers and to allow the rail to be grasped along the whole of its length.
Balustrades should (where they also provide the infill below a handrail, or on a landing, along the open edge of the staircase) provide containment to prevent occupiers from slipping/falling through the space between the hand (top) rail and the edge of the floor or stair; and should prevent very young children from being held fast by any narrow gaps.
Ideally the infill should be solid, using stud work; glass; or metal panels etc. Alternatively spindles (balusters) spaced apart can be used. If using spindles or any infill that might have a gap around it, the gap should not allow a 100mm diameter ball to pass through. Spindles spaced at 99.9mm would be ideal so long as there is no sideways give in the spindles that would allow a 100mm ball to pass through – this is to prevent children under the age of 5 from trapping their heads in the gaps – although it's not always small children that might get trapped!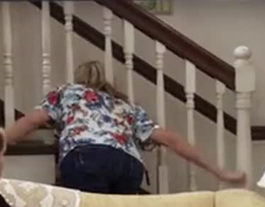 The top of a balustrade, inside houses and flats, should also be positioned 900mm or more above the stair pitch-line or the level of the floor/landing.
Balustrades should be equally robust and able to support the weight of somebody leaning or pushing against the rail or infill below the rail. Generally, the top rail to a balustrade should not deflect (bend) more than 25mm or 1/65th of its length, whichever is the smaller. 
When considering an infill using rails, spindles or wires they should be designed so that a child cannot climb over the balustrade (the image shows a climbable form of balustrading). Vertical spindles, rails, bars or wires are preferable.
When using glass infill panels, the material should be safety glass – preferably laminated, so that it will still hold in place and prevent someone falling through the gap if it were to shatter. Toughened glass is permitted, depending on the free path distance in front of the infill.
 - For a free path up to 1.5m – 6mm, Class 3* toughened glass may be used.
 - For a free path of over 1.5m 10mm, Class 1(C)1* or 1(B)1* toughened glass may be used.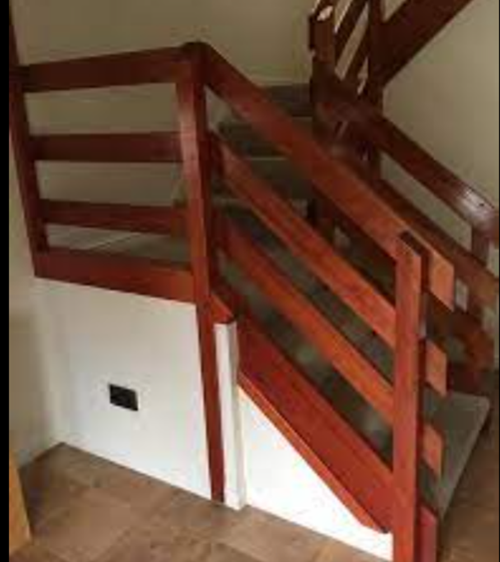 *Classified by BS EN 12600 - Glass in building – Pendulum test – Impact test method and classification for flat glass
Make sure the stairs and any landings are provided with good levels of lighting (especially artificial lighting). Wherever possible, lights should be capable of being switched on and off from both upstairs and downstairs by the use of 2-way switches. In complex arrangements an intermediate switch might also be needed.
Where there is any doubt over the design and installation requirements for handrails and balustrades the advice of a suitably qualified and experienced professional should always be obtained.
Sign up to the building bulletin newsletter
Over 48,000 construction professionals have already signed up for the LABC Building Bulletin.
Join them and receive useful tips, practical technical information and industry news by email once every 6 weeks.